Since its establishment, the Kingdom of Saudi Arabia has witnessed a renaissance at all levels, and the paths of change and development have been strengthened in an unprecedented way for a decade now. One of the most essential things Saudi Arabia has been working on lately is everything related to the tourism and investment fields inside and outside the capital. This is why efforts are also focused on developing travel and transport facilities, primarily in the air transport sector. Therefore, a large airport such as King Khalid International Airport in Riyadh is witnessing an essential growth in passenger numbers, accompanied by an increased number of flights. The percentage of passengers recorded by the airport in 2023 is a record compared to 2019. Accordingly, the management working at this vital facility has worked to strengthen the cadres working in it and to open up travel destinations to and from Riyadh even more. It is also essential in this context that it has worked to enhance the airport's facilities and services to provide passengers and passersby with comfort, recreation, and safety. This is why the airport has advanced in the "Skytrax" list to the 27th place on the list of the 100 best airports worldwide for 2023. The airport is expected to achieve better rankings in the coming years due to the plans to strengthen this sector, which the Kingdom of Saudi Arabia is actively working on. In this article, we will deal with the facilities and services that King Khalid Airport in Riyadh provides to travelers and transients immediately upon arrival at the airport building and the activities that can be carried out through it.
1- Visiting restaurants and cafes at Riyadh International Airport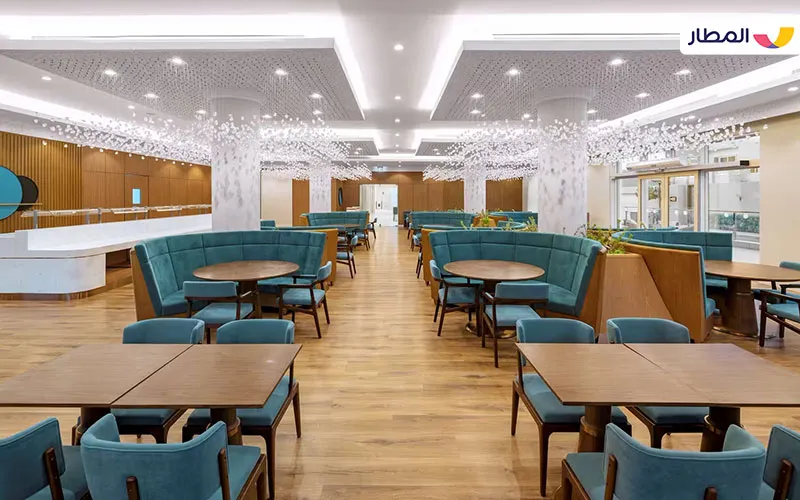 A large selection of restaurants and cafes at Riyadh International Airport are available 24 hours a day. In the airport's five terminals, you can find about 19 restaurants and cafes, some of which are famous internationally. For example, if you are a fan of fast food, you can enjoy a delicious meal from "Burger King" and have sandwiches and sweets with it if you wish. For this, you may mean "McDonald's," where you will find a comprehensive list of options that suit you, your family, and your children.
And how about having your favorite delicious coffee from "Dunkin' Donuts" and a delightful dessert covered with chocolate or flavored sugar? If you are a fan of Starbucks coffee, you will find it in lounge number 5, and Starbucks also offers you cold drinks, desserts, and delicious sandwiches. In lounge number 3, you will find the cafe "Half Million," where delightful coffee and beautiful mixes will be offered. And you can also have ice cream, sandwiches, or croissants with your favorite drink.
If you have arrived at the airport in the morning and want a delicious breakfast, the restaurant "Cakes and Cheese" is waiting for you to offer you Manakish, stuffed cakes, and various types of food served at breakfast.
For pizza lovers, the restaurant "Domino's Pizza" will offer them slices of pizza with the finest ingredients, spices, and a comprehensive list of options.
At Riyadh airport, you will also find a cafe called "Tim Hortons" to serve you luxurious coffee and delicious baked goods. You will find "Baskin Robbins" to taste the perfectly made ice cream; this place has 8,000 branches worldwide. From "Cinnabon," you will have the most delicious baked goods, and from "Subway," the most delicious sandwiches. The list does not stand at the names I mentioned.
So, treat yourself when you land at Riyadh International Airport. The food and drink options are extensive, and you must choose one of these restaurants or cafes at the airport every time you visit Riyadh to feel happy while eating your favorite meal.
2- Use of relaxation lounges at Riyadh International Airport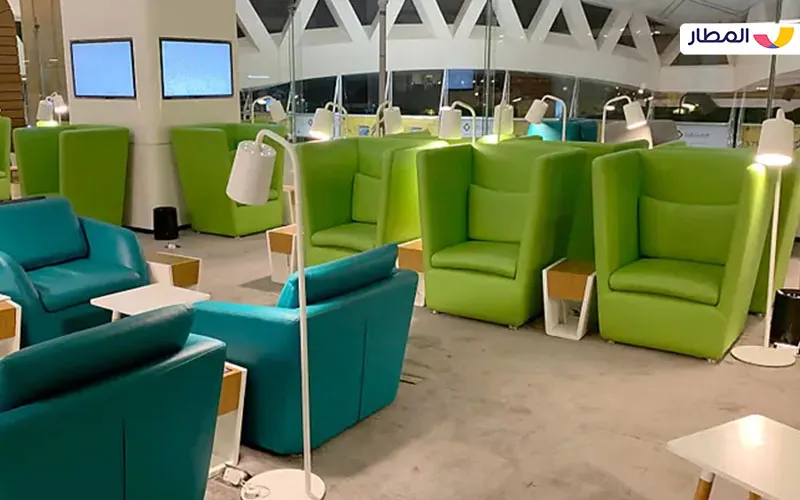 Don't worry if you arrive at Riyadh airport and you need to rest, lie down, or sleep after a long and exhausting flight, as you will enjoy a quiet and comfortable experience in the lounge that has been prepared for this and that welcomes you 24 hours a day, even if you are an economy class passenger.
The lounge offers various services to help you relax and prepare for your next trip, including a public seating area, a unique food and beverage corner, bedrooms, and children's rooms.
The lounge focuses on the essential aspects that will make your trip more enjoyable and comfortable. Relax in the comfortable seating area, have a snack from the food and beverage corner, take a break in the bedroom, or let your children play in the children's room.
With the comfort lounge at Riyadh Airport, you can relax and prepare for your next flight without any worries and at affordable prices.
3- Shopping at Riyadh International Airport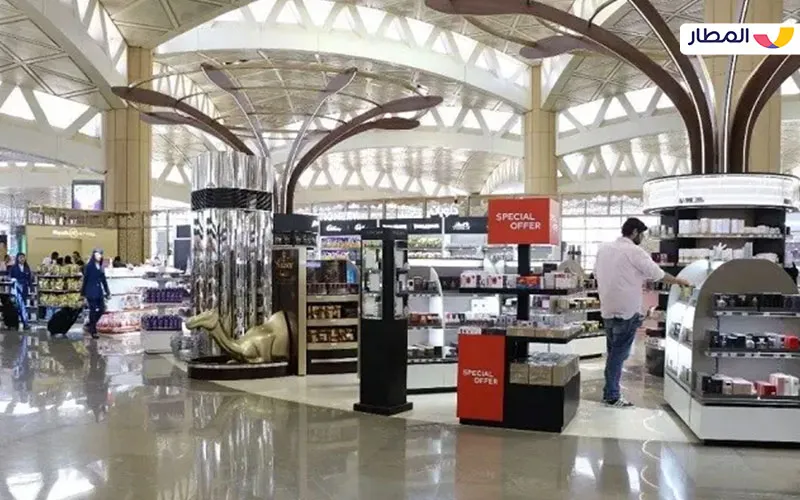 You will be surprised by the variety of shopping options at Riyadh International Airport. You can buy what you need from one of the shops in one of the lounges. And you can choose an excellent gift for your loved ones before you meet them at the destination where you will go after you leave the airport.
At "Virgin Megastore," you will find all your entertainment needs, including books, electronics, games, CDs, computers, tickets, and more. This store is available around the clock and all days of the week.
In Terminal 5, you will find "AHLA Avenue," where you will have an exciting shopping experience. Beautiful perfumes, watches, and wonderful gifts are some of the assets of this store. And in the store "Bath and Body" store, you will find the most beautiful perfumes. You will also have the "Arabian Oud" store to buy the most beautiful oriental perfumes from the finest materials and blends.
And in the Foot Locker store, you will find a place specializing in sportswear and shoes.
In the "Swiss Corner," you will enjoy the essential Swiss watch selection that suits all tastes and at the best prices from international brands.
In the "kid inn," you will buy the most beautiful toys and children's supplies; in the "Duty-Free," you will find international brands and brands, fashion, perfumes, electronics, toys, food, and sweets.
The airport has more than one place to sell medicines or medical supplies, such as the "Medicine Pharmacies," the "Nahdi Pharmacy," or the "Whites" store.
4- Booking at the Marriott Hotel Riyadh International Airport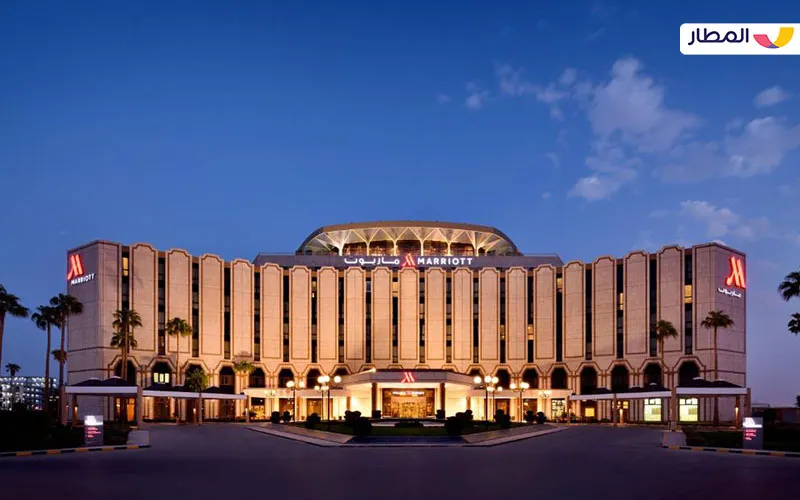 Riyadh Airport Marriott Hotel is located near King Khalid International Airport, a short drive away. The hotel is a 5-star hotel that provides a variety of services to guests. In this hotel, you will find rooms with the latest amenities, free high-speed internet access, two restaurants serving a range of delicious international cuisine, a fitness center, a spa, and multiple halls for various events.
If you are looking for a comfortable and ideal hotel for your vacation or to get some work done in Riyadh, then the Riyadh Airport Marriott Hotel is the perfect choice.
Riyadh International Airport is a large, ancient, and well-equipped airport. And what we've mentioned to you are samples of what you can do when you land in it. Otherwise, you can do more than that, such as receiving or transferring money through a group of available bank branches such as Al Rajhi Bank, Al Ahli Bank, Al Bilad Bank, Al Inma, and others. You can store your luggage in specially designated and safe places and have internet access, communication, and bookings through various travel agencies.