The city of Abu Dhabi will surprise you with its possibilities, services, and hotels. It's like a city designed to make you feel unforgettable luxury. Its hotels are among the most luxurious in the world. The architecture of these hotels is awesome and combines prestige and beauty; the services in them are luxurious and refined.
Abu Dhabi hotels are suitable for families. The equipment in it provides everything you need to make your family feel comfortable, safe, and secure. Your visit to Abu Dhabi hotels will be one of a lifetime, so let's get acquainted with some of these hotels that offer 5-star service:
Conrad Hotel Etihad Towers Abu Dhabi
Royal Rose Hotel Abu Dhabi
Al Raha Beach Hotel Abu Dhabi
 The Ritz-Carlton Abu Dhabi Grand Canal Hotel
Bab Al Qasr Hotel Abu Dhabi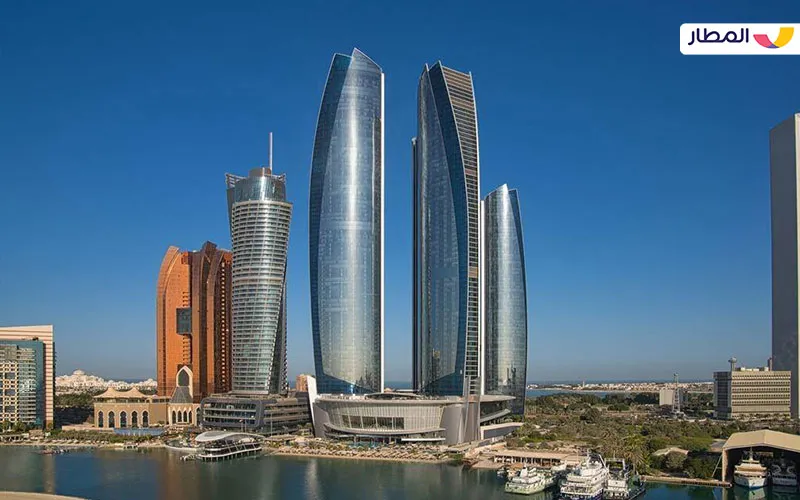 The address of this hotel is luxury, with excellent service and distinctive equipment, which is why it is considered a family hotel and at the 5-Star level. The hotel enjoys a magnificent view of the Arabian Gulf Coast and the beautiful city of Abu Dhabi.
The Conrad Union Towers Hotel provides many services and facilities that meet the needs of families. It has large family rooms that accommodate a large family, and cots are available on request. There are swimming pools for children and a kids club with various activities and entertainment programs in the entertainment field. Regarding meals, there are snacks available in its restaurants suitable for families. Room service at the hotel is available 24 hours a day.
The hotel is located in a privileged location close to many tourist attractions and commercial centers, making it ideal for those who want to discover and explore the city of Abu Dhabi with their family.
---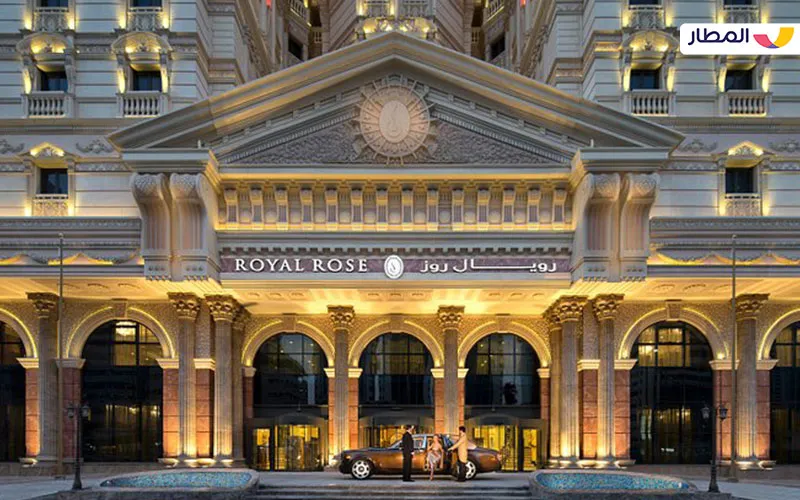 It is a 5-star hotel recommended to visit if your visit to Abu Dhabi is as family-like as if alone. It is located in the heart of the vital area of Abu Dhabi, which allows the family to practice its various activities in the city with ease, visiting shops, fashion centers, restaurants, cafes, and diverse entertainment venues.
The Royal Rose Hotel Abu Dhabi is a luxurious and beautiful hotel that features terrible architectural design in a way that can be compared to French palaces in the seventeenth century.
The hotel offers 355 luxurious rooms and suites, all with attractive and harmonious interiors. The rooms have high-quality beds, sophisticated electrical appliances, coffee and tea-making utensils, and color-coordinated and comfortable furniture. The rooms also provide the perfect atmosphere for a quiet and pleasant stay.
All rooms have beautiful views of the city or the garden; some have balconies or terraces. Free wireless internet is available in all rooms. The hotel also provides various other services, including 24-hour room service, a fitness center, a swimming pool, restaurants, cafes, and a children's club.
---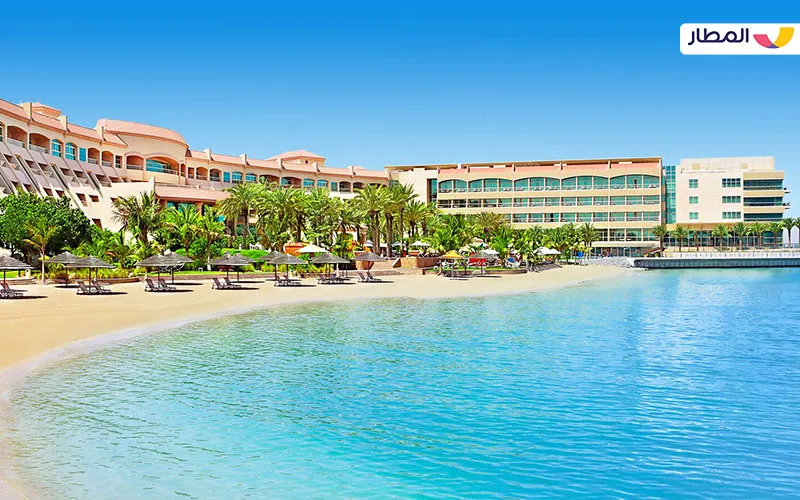 Al Raha Hotel is located on Al Raha Corniche on the picturesque coast of the Arabian Gulf. It has a beautiful view and a wide area of bright sandy beach. This makes it suitable for families, where they will have fun times on the shores of the sea, including activities and entertainment.
The hotel also has 24 villas with sea views adjacent to the main building. Some are two-room, others are three- or four-room.
The hotel has state-of-the-art facilities and entertainment facilities. It has a spa, steam rooms, sauna, and jacuzzi. It has a luxurious and modern gym. It also has indoor and outdoor swimming pools.
Families will enjoy the delicious and varied meal options the hotel's restaurants offer. You will find international and local dishes, snacks, and meals suitable for children there.
One of the hotel's features that makes it very suitable for families is that it is located just a 10-minute drive from Yas Marina, which is full of fantastic activities, from Ferrari World, and from Yas Island, which is full of fun and beautiful movements.
---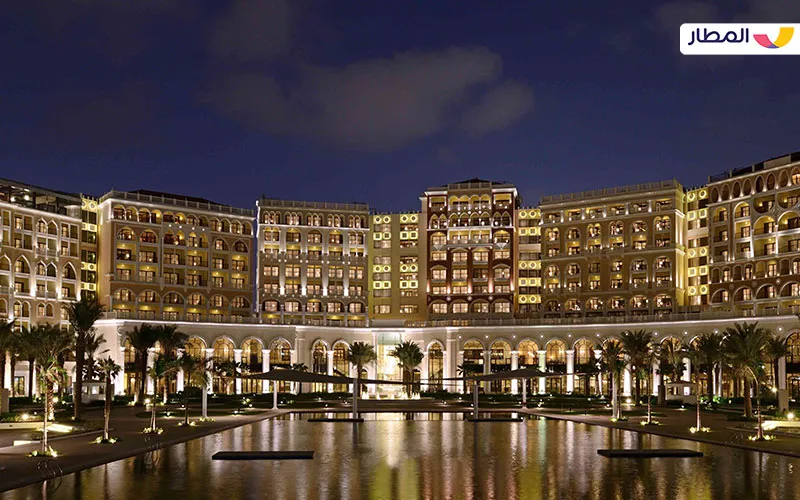 It is one of the beautiful 5-star hotels with a great and stunning view of the shores of the Arabian Gulf. It is considered one of the largest resorts in the region and the world. This hotel has a spa with an area of 2,000 square meters, designed specifically for your and your family's well-being and relaxation industry. Ten restaurants provide you with a wide range of meals and options for eating and drinking. As for the swimming pools, they are some of the most beautiful and luxurious.
The hotel's outdoor facilities include a beautiful garden and a children's playground; the hotel's facilities include a games room; and additional services include babysitting and childcare.
The hotel has family rooms of different sizes, equipped with everything you need, as you will find in them: cots for children if requested, a safe, a minibar, and a desk table. The rooms' kitchen has a full-size refrigerator, a mini-fridge, and a coffee or tea maker. You will find ironing facilities, a TV, and a radio. In the bathroom rooms, there is a shower, a bath, a hairdryer, and bathrobes.
As for entertainment facilities, the hotel has an outdoor swimming pool and a children's pool. There is also a sunny terrace with umbrellas. Guests and families can use the on-site fitness center with the best appliances and gadgets. You will be entertained with a sauna, steam bath, Turkish bath, massage, and massage rooms. The hotel also offers entertainment programs for the little ones and a kids' club so that they can spend their free time having fun and playing.
---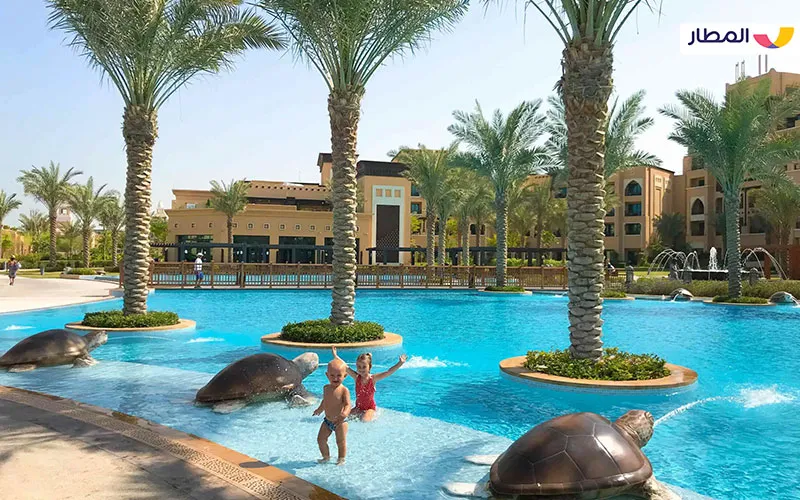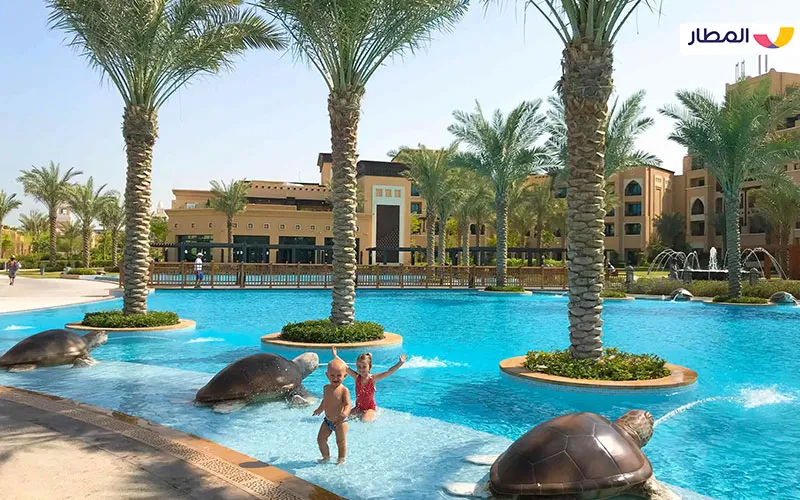 Look at the architectural luxury of the Bab Al Qasr Hotel in Abu Dhabi, where you will witness an architectural design that combines the Arab and Gulf environments on the one hand and the legendary splendor on the other. It is considered one of the most critical and luxurious hotels on the Abu Dhabi Corniche. When you and your family visit, you will discover the beauty of Arab hospitality, characterized by hospitality, generosity, and good reception. This 5-star hotel will provide your family and children with all the amenities and entertainment, and you will have an unforgettable experience there.
The hotel will have 677 rooms, suites, and residences, all designed to feel super comfortable. There will be eight restaurants and cafes to taste the best international dishes. You will relax on sun loungers on a private beach stretching for 140 meters and enjoy treatments in the two-story Moroccan spa. And don't forget to ask for a personal shopping assistant to take advantage of shopping centers near the hotel or in the vital areas of Abu Dhabi.
In short, everything at Bab Al Qasr Hotel is elaborate and charming, from the first reception of the hotel with its lovely heroine to its most straightforward services.