Edinburgh is Scotland's capital, located in the southeast of the country on the eastern shore of the central belt near the North Sea. It is the second most populous Scottish city and the seventh in the UK and is famous for its antique monuments tucked between hills, and rocks inlaid with a noisy green cover. Edinburgh was previously a military center, the capital of an independent state, and also a center of intellectual activity. Due to the antiquity of its heritage and its neighborhoods, UNESCO classified the old and modern towns among world heritage sites in 1995.
Edinburgh tourism in Scotland brings pleasant surprises and exciting adventures for nature and thrill lovers. It is famous for its beautiful beaches, amusement parks, and outstanding historical sites such as castles and towers. The high rocky cliffs add exceptional beauty, and the capital is full of lively festivals reflecting the traditional cultural and artistic heritage, making it one of Scotland's most fascinating tourist cities.
Edinburgh, in Scotland, is characterized by many of the most important hotels, resorts, and ideal hotel apartments. These establishments provide a dreamy atmosphere for guests and guarantee them comfort, tranquility, and well-being during their tourist vacation. In addition, it benefits from its privileged location near the city's most important sights.
From here, we will devote this article to talking about the most prominent 4-star hotels in Edinburgh according to the latest site preferences on Booking.com:
1- YOTEL Edinburgh Hotel
2- Radisson Blu Hotel Edinburgh City Centre
3- Mercure Edinburgh Haymarket Hotel
4- Apex City of Edinburgh Hotel
5- Apex Waterloo Place Hotel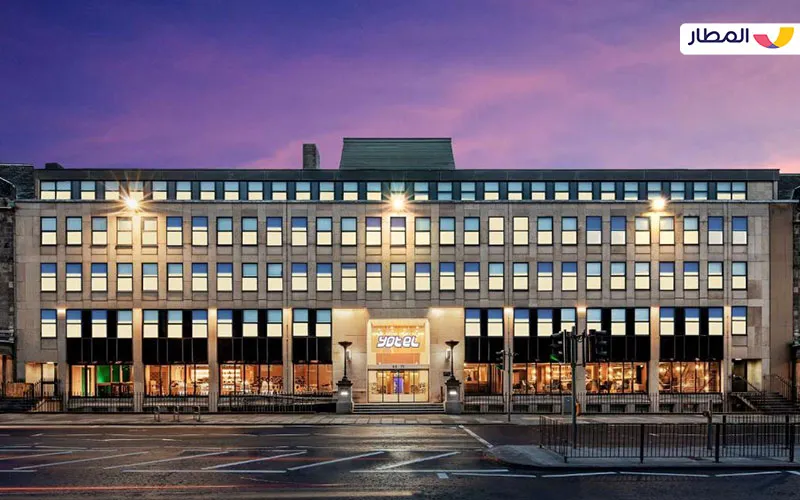 It is one of the 4-star hotels in Edinburgh. It offers a privileged location and well-ventilated rooms with free Wi-Fi. You will find a wardrobe and a private bathroom with toiletries in each room. Each room also has a beautiful view of the charming city of Edinburgh. All rooms also feature a flat-screen TV with satellite channels.
There is a fitness area at the hotel, and there is also a bar where you can enjoy various drinks. The staff at the hotel will greet you warmly, and you will be able to communicate with them in different languages, including English, French, and Spanish.
At the hotel, you will have a special English breakfast; you can also order a continental breakfast and others.
Due to the hotel's location in Edinburgh, you will find popular attractions such as the Edinburgh Theatre and Edinburgh Castle nearby. As for the airport, it is located only 9 km from it. The hotel received a good rating of 8.9, according to Booking.com.
---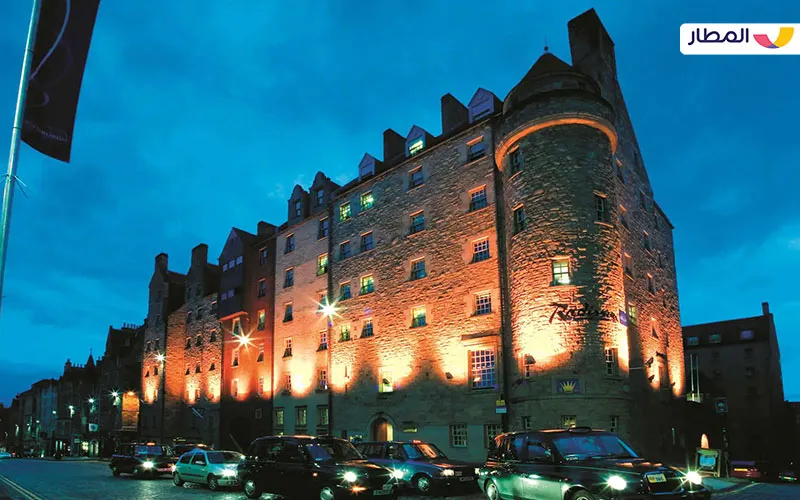 The Radisson Blu Hotel is a 10-minute walk from Edinburgh Castle, Holyrood Palace, and the park and 500 meters from the bustling Princes Street. This makes this hotel a connecting point for you with the pulse of the city and its beautiful sights. You can reach Waverley train station within a 5-minute walk from your hotel.
You will find a spa and a fitness center at the Radisson Blu Hotel. The hotel rooms are equipped with free Wi-Fi. Each room has a private bathroom with all toiletries. You will also find a TV with different satellite channels.
The hotel features a private swimming pool and sauna and a restaurant overlooking the Royal Mile, serving varied and delicious food. The hotel received a good rating of 8.3, according to Booking.com.
---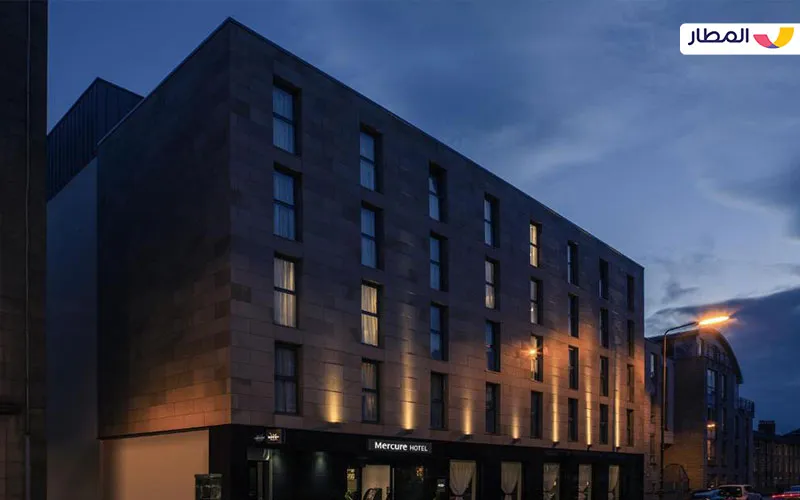 The Mercure Edinburgh Haymarket Hotel is located in the city center of Edinburgh, making it essential for those who want to connect to the city's pulse, markets, attractions, and beautiful neighborhoods. Haymarket train station can be reached in a 9-minute walk. The hotel is just a short walk from the majestic Edinburgh Castle and 4 km from Edinburgh Zoo.
The Mercure Edinburgh Haymarket Hotel offers well-serviced rooms with free high-speed internet access and a coffee and tea maker. The rooms also have bathrooms with complimentary toiletries. Guests can use the air conditioning, ready for use at any time. The hotel has a fitness center and a bar serving various drinks. The hotel deserved an 8.1 rating on the website Booking.com.
---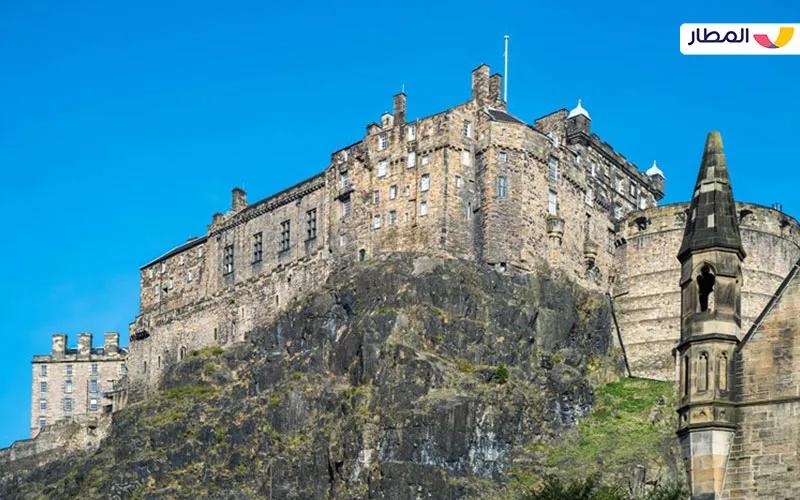 It is one of the most elegant and beautiful 4-star hotels. It is at the foot of Edinburgh Castle, just off the Royal Mile. The hotel rooms are lovely; you can feel comfortable and luxurious. In them, you will find free Wi-Fi, a comfortable bed, and a spacious en suite bathroom with all its amenities.
You will enjoy the flat-screen TV, and you will sip your coffee through the coffee machine that will be at your service inside the room. The room has a mini fridge, air conditioning, and cots if needed.
You will find a fitness center, weightlifting, and resistance training at the hotel. It has a beautiful swimming pool. And in the vicinity of the hotel, some sights are worth a visit. The hotel received a rating of 8.2, according to Booking.com.
---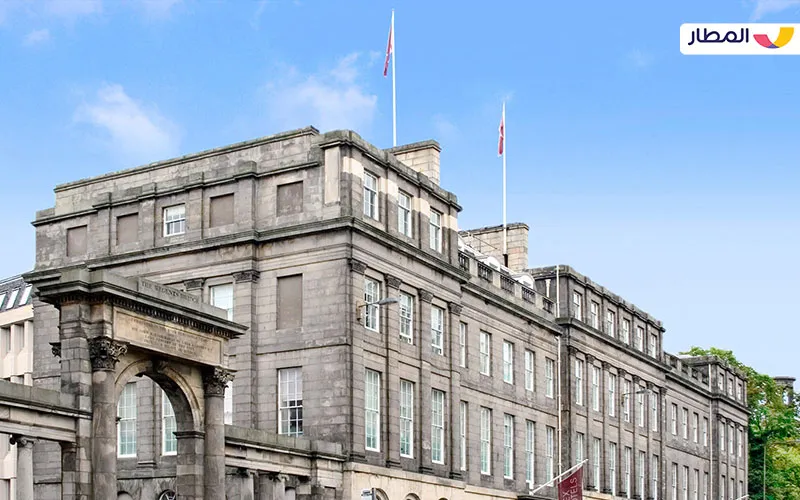 It is one of the luxury 4-star hotels in Edinburgh's center. It offers luxurious rooms and beautiful suites, all with free Wi-Fi. In the restaurant, you will find a spa and a swimming pool. It also has a restaurant serving delicious cuisine.
With a comfortable bed, a flat-screen TV, a spacious en suite bathroom, and a bathtub with all the luxury supplies, you will have complete comfort in your room as if you were home. The room also has a mini-refrigerator, air conditioning, and a coffee machine. If your child is with you, you can ask for a bed with a highchair for him to eat in.
You can enjoy spa treatments and use the fitness halls, swimming pool, sauna, and steam room. Also, pamper yourself at Elliot's restaurant, which will serve you traditional Scottish delicacies and other cuisines. The hotel received a rating of 8.5, according to Booking.com.
Edinburgh is full of distinctive hotels, and you will be surprised by the many options available. We have mentioned a sample of unique 4-star hotels; otherwise, this ancient and beautiful city is full of luxurious, comfortable, and beautiful accommodations, and you just have to look for them and get down in them.