Hotel services in our modern world are not limited to providing places for entertainment, recreation, and vacation spending within the suites and facilities prepared for this. Among the services provided by many hotels are those related to businessmen and their necessary needs for meeting rooms, internet connections, fax machines, etc. Therefore, businessmen are looking for hotels that provide them with a comfortable and successful working environment so that they can get all the necessities for their business. London is considered one of the most vibrant cities and is able to provide this type of hotel service deservedly.
Many of its hotels will have fully equipped meeting rooms, some with a seating capacity of up to 600. This changed the comfortable, quiet, and isolated rooms to provide business owners with an environment in which they can concentrate. Many of these hotels also take into account their convenient geographical location, so some businessmen can stay at the hotel and get to the meeting place or work with a record duration either on foot or through transport networks close to the hotel.
The location of these hotels near the vital centers of the capital makes the resident able to reach what he wants from shops, markets, and places for hiking and walking, which saves him a lot of time he needs in his field of work. The same applies to the proximity of these hotels to cafes and restaurants.
Being able to get to a restaurant near the hotel to have your favorite meal or have a cup of tea or coffee and then return to the property quickly to continue your work is a very important advantage. In conclusion, many London hotels have provided businessmen with everything they need, and they only have to improve the organization of their time and activate their management skills to achieve the best results. Below, we will mention the 5 most important hotels that provide businessmen with a suitable environment for work and productivity, according to the Trip Advisor website rating: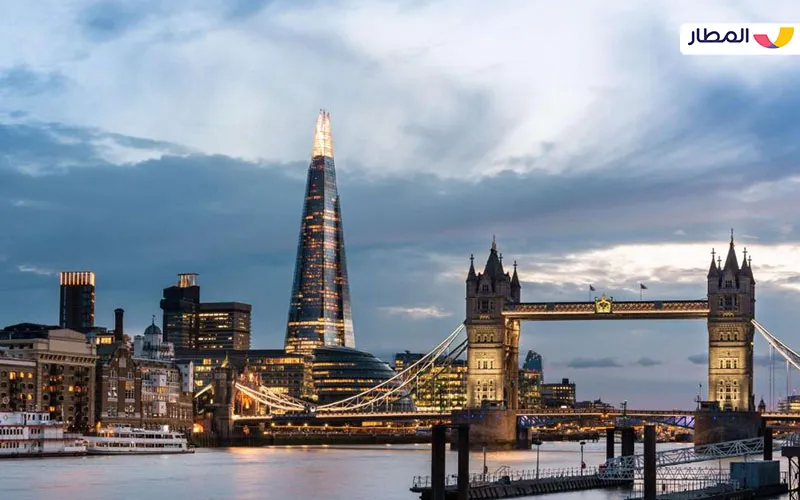 Ideal in terms of its location for businessmen: 
The luxurious 5-star "Shangri-La The Shard Hotel, London" is located on floors 34 to 52, giving guests stunning views of the capital and its surroundings. The hotel is distinguished by providing a unique experience as well as a wonderful restaurant. "Shangri-La Hotel at the Shard London" is located on St. Thomas Street, less than a minute's walk from London Bridge train and subway stations. The Tower of London and London Bridge can be easily reached within a 20-minute walk. You can enjoy a stroll along the South Bank of the Thames to the heart of London, Big Ben, and Westminster, about 2.4 km away.
Well equipped for businesses and companies: 
Shangri-La Hotel at The Shard is a typical venue for events, meetings, business meetings, and cocktail celebrations. Some of the spaces have been specially prepared for these things, and they are always ready to welcome business guests with their distinctive crystal chandeliers while providing the latest audio-visual technologies. And on the 34th floor, you can organize receptions and cocktails, and in this place, you will have a view of the picturesque sights of the city of London. The hotel rooms for small business meetings come in the appropriate sizes, as do those for conferences and bus meetings, where they are large and equipped. With its advanced and equipped facilities, beauty, and elegance throughout, Shangri-La Hotel The Shard guarantees you to combine productivity and success on the one hand and comfort and luxury on the other.
---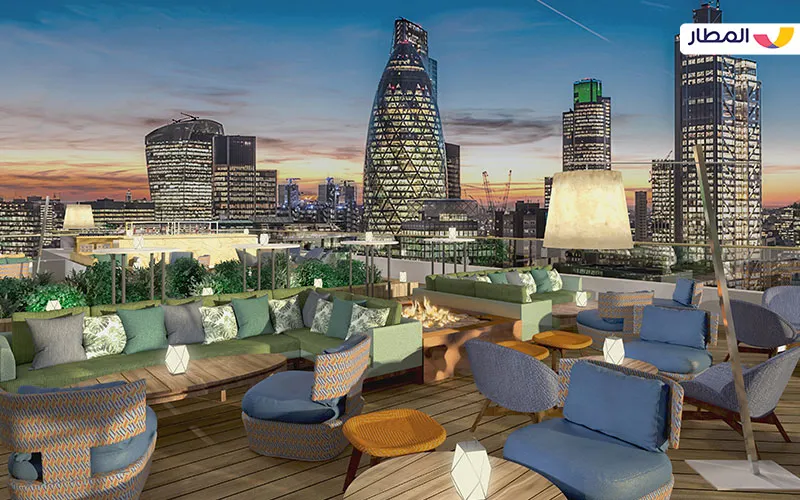 Businessmen are a short distance from the heart of London:
 This hotel has a privileged location in the heart of London, next to Finsbury Square Park and a short walk from Liverpool Street. With this location, it is suitable for business people to stay in touch with the pulse of the city of London and to feel relaxed while walking around the park. From this hotel, you can easily reach any other area using public transport, and it is 12 km from London City Airport. The rooms of the hotel are equipped with stunning views; they are equipped with a large smart TV and a coffee machine. There are two restaurants at the hotel, offering delicious dishes and drinks. 
Meetings and business conferences at the hotel:
The Mount Calm The Royal London House Hotel always accommodates meetings in its spaces. The environment in which business meetings will take place is wonderful, stimulating, and inspiring. The hotel offers unique technology for meeting and business rooms, including in the visual and auditory fields. This hotel is your perfect choice if you are visiting London on a business trip, as it will provide you with a unique combination of comfort, luxury, and the ability to go about your business in a captivating and beautiful atmosphere.
---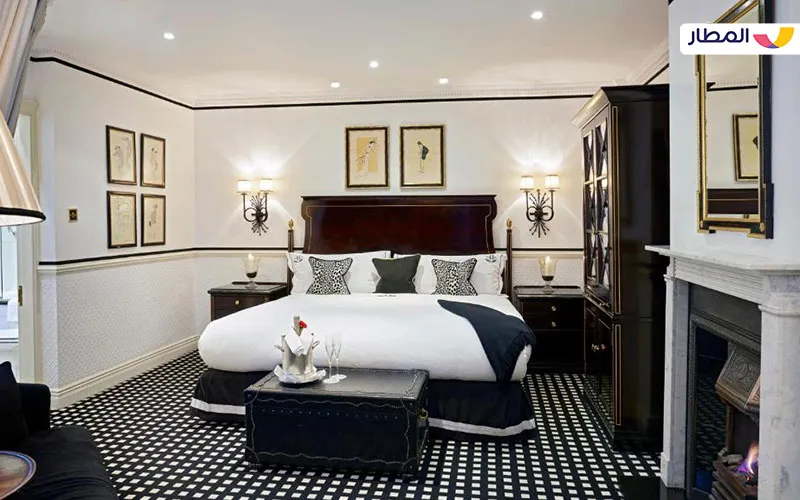 Perfect proximity to important landmarks in London:
How important it is for any businessman who lands in a hotel to be able to easily and conveniently navigate and carry out his business, which needs to cover some distance, so, those who visit the 41 London hotel (it is a 5-star hotel) will have a place to stay 500 meters from the London Victoria Metro and train station. Piccadilly Circus is just 1.6 kilometers away. A stay at Hotel 41 puts you within a 15-minute walk of Hyde Park and Buckingham Palace. It is 1.6 kilometers from Big Ben and 5 kilometers from London Bridge.
Business facilities at Hotel 41: 
Hotel 41 features facilities for celebrations and events with an area of 19 square meters, including a conference room and a meeting room. At this hotel, you will feel at home when you stay in one of its rooms, each of which has a unique decor. Satellite TVs are provided to enhance your stay, as well as complimentary wireless internet access to stay connected. The rooms have private bathrooms with luxury toiletries and hair dryers. Conveniences include phones, safes, and complimentary newspapers. In conclusion, Hotel 41 is a great choice for business travelers to London, as it provides them with a luxurious atmosphere as well as many amenities and achievements. 
---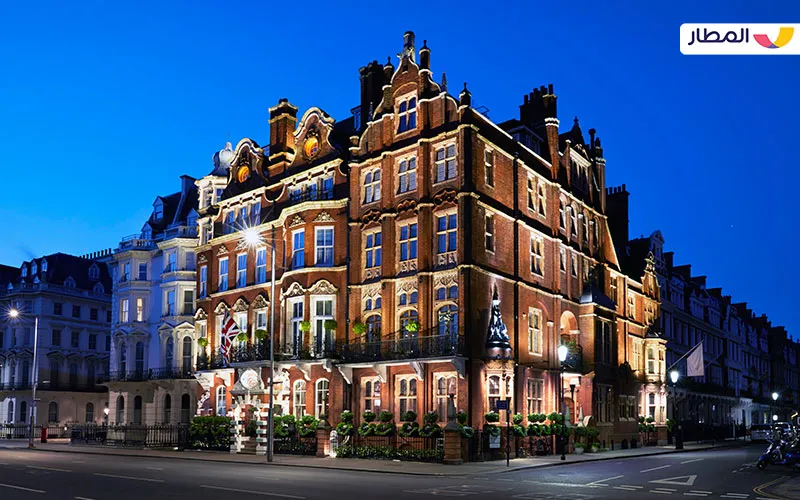 The Milestone Hotel and Residences Stylish care for business owners:
 At the Milestone Hotel, you will not have to worry about the availability of everything you need if you are going to resort to a business meeting. The hotel provides you with space and will give you the latest audio and video technologies with secure internet connections wherever you are within the different spaces of the hotel, keeping you connected to the world. While working from the Milestone Hotel, you will feel as if you are in your luxurious home or in your office, where you can relax while sitting. The hotel is famous for its exceptional services and amenities, which guarantee a high level of recreation for business guests. Services such as 24/7 room service, laundry, dry cleaning, and personal assistance contribute to a hassle-free stay that allows the guest to concentrate on his business. 
A great location near landmarks and markets:
The location of the landmark London hotel is strategic as it offers easy access to commercial areas, cultural attractions, transport, shopping places, and entertainment facilities. This enhances the rich experience of the guests, especially if they are business people. The hotel's proximity to major event venues such as the London Olympia and Excel London Exhibition and Convention Centre is beneficial for business travelers attending or participating in events, conferences, and exhibitions.
---

The combination of well-being and achievement:
 Whether you are traveling for business, pleasure, or both, this hotel will make your visit to London one of the most wonderful, full of achievement and success. Its amenities and achievements include a business center with the most important services they need. Staying in one of its rooms gives you a sense of reassurance, and you can take advantage of free internet access as well as digital channels to enhance your experience. The rooms have private bathrooms equipped with toiletries. Conveniences include safes for storing laptops and desks, and housekeeping is provided daily. 
London's landmarks are within your reach: 
You will live the experience of staying at the Bankside Hotel, and you will find yourself in the heart of the city of London. This 4-star hotel is located within a 24-minute walk of the Shard Tower. It is also close to London Bridge, which can be reached in 23 minutes on foot.