By visiting Abu Dhabi, you are visiting a charming coastal paradise of a city that has a large stretch on the picturesque coasts of the Arabian Gulf, where clear blue waters meet beaches with golden sand. If you are a sun seeker and a sea lover, you will not find anything better than the city of Abu Dhabi, which offers you the best resorts on its beaches. These resorts are located in amazing locations and offer stunning views from the rooms and restaurants in them. When you stay at one of these resorts, you will feel a mixture of relaxation and luxury saturated with fresh sea air.
In the magnificent resorts of Abu Dhabi, you will wake up to the music of the sound of water on the beach, stroll on the soft sand, and enjoy world-class amenities in accommodations that are classified as the most luxurious in the region and the world. And whether you are planning a vacation with your family and children or you are alone, these Bay Beach resorts will give you what you want.
At Abu Dhabi resorts, get ready to dive into a world of beauty and luxury, as the five resorts we will tell you about offer a wonderful beach stay, luxurious spa treatments, and exciting water adventures. And you will have delicious cuisine in front of the magnificent sunset scenery. Every resort in Abu Dhabi promises you an unforgettable experience; just book through the almatar app, which offers you the best deals ever.

The resorts that we will tell you about are:
1- Emirates Palace Mandarin Oriental
2- St. Regis Saadiyat Island Resort
3- Zaya Nuray Island Resort
4- Saadiyat Rotana Resort & Villas
5- Park Hyatt Abu Dhabi Resort & Villas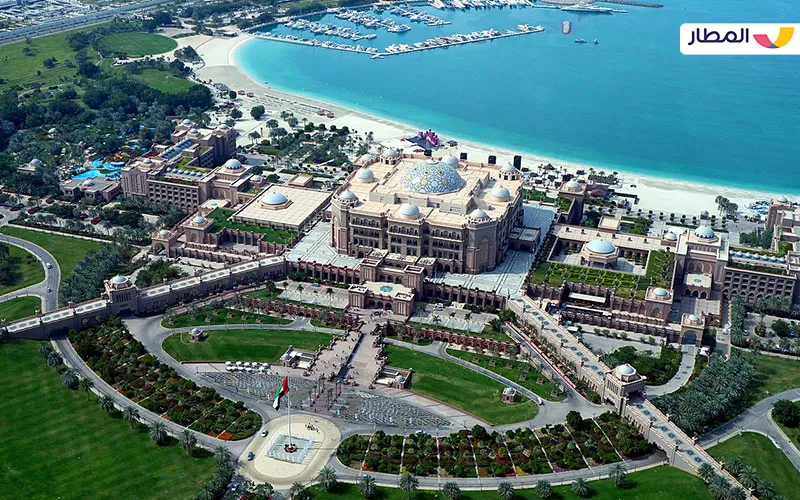 One of the most popular and luxurious beach resorts in Abu Dhabi, Emirates Palace offers a high blend of Arabic elegance, modern comfort, and unparalleled hospitality. It features a range of very luxurious accommodations, including gorgeous rooms and suites. They have been designed with meticulous attention to detail. Many of these rooms and suites offer stunning views of the Arabian Gulf.
The resort has several award-winning restaurants catering to different tastes. There, you will find a variety of restaurants serving Lebanese, Italian, and seafood.
Being a luxury resort, Emirates Palace Resort features a private beach where guests can relax, sunbathe on its sand, and enjoy the clear waters of the Gulf.
The resort offers multiple swimming pools, some of which are family-friendly. And such a luxurious resort will not miss the provision of a spa service with a range of treatments and massages by specialists.
Emirates Palace Resort will offer you an unforgettable stay. With this stay, you will remember those charming moments that a wonderful city like Abu Dhabi has given you.
---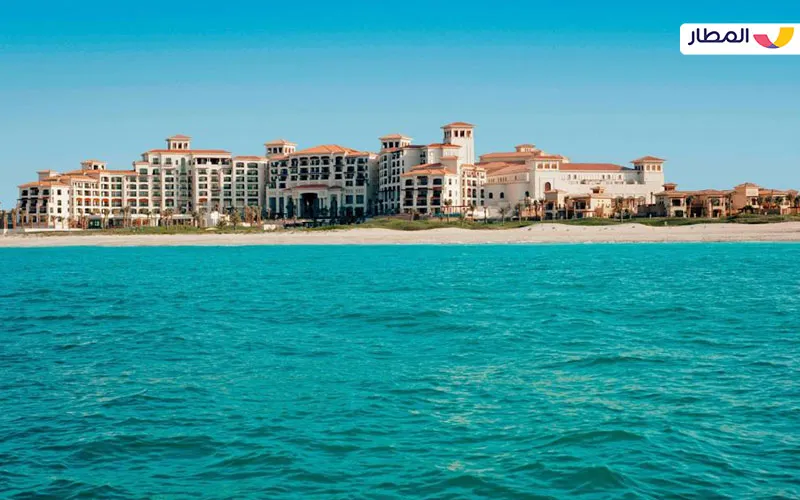 One of the most luxurious accommodations on the Gulf Beach in Abu Dhabi, this resort offers world-class amenities.
The resort's rooms, suites, and villas are beautifully and elegantly designed, all featuring a contemporary style with Arabic touches. They offer stunning views of the Arabian Gulf and the resort's green gardens. The St. Regis suites come with a dedicated St. Regis butler service, ensuring personal attention to guests' needs.
Located on Saadiyat Island, the beachfront resort offers direct access to the crystal-clear waters of the Arabian Gulf.
The resort's restaurants are diverse and include Mediterranean, Asian, and seafood delicacies.
The resort's spa will be your haven of relaxation and well-being, offering a range of rejuvenating treatments and massages by skilled hands in this field. You will also enjoy the sauna, swimming pool, and other therapeutic suites.
The St. Regis Saadiyat Island Resort offers an 18-hole golf course. It also has several swimming pools suitable for children and adults.
The resort is suitable for families, where you will find a children's play area, babysitting services, and a club for their activities.
In short, the St. Regis Saadiyat Island Resort is a full-fledged incubator of everything that can provide happiness, well-being, and relaxation for you and your family.
---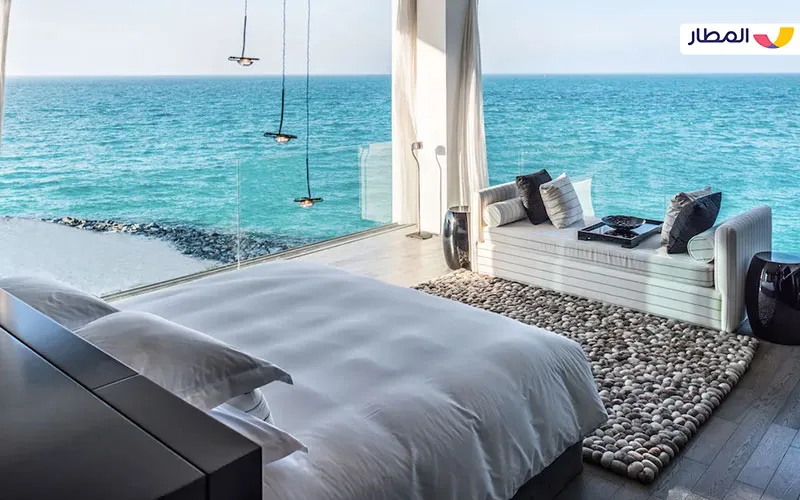 Zaya Nuray Island Resort offers a unique haven for those who want to relax and unwind in front of the quiet and beautiful beaches of the Arabian Gulf. It has various amenities and high comfort. Zaya Nuray Island is a private island located off the coast of Abu Dhabi, and you can go to it through a private boat trip from Saadiyat Island. And this is what makes this resort suitable for single or romantic stays.
The resort offers its visitors a set of magnificent private villas with a private pool for each of them and direct access to the beach.
Visitors can enjoy a range of water activities, such as snorkeling and kayaking. Private beaches are also equipped with deck chairs for relaxation and sunbathing.
The resort features many dining options offering a variety of cuisines, including Mediterranean, Asian, and international dishes.
It includes a wellness center and a fully equipped gym for those who seek to stay fit.
---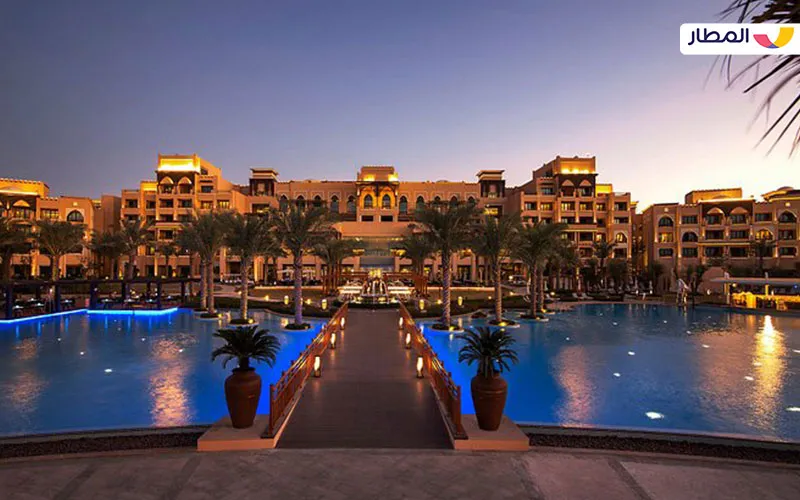 Saadiyat Rotana Resort is located on the shore of the Arabian Gulf on the magnificent Saadiyat Island in Abu Dhabi. The resort is famous for its wonderful accommodations, world-class restaurants, and amazing entertainment facilities.
The resort has a variety of luxuriously equipped rooms, suites, and villas, each of which has been designed with elegance and comfort in mind. Some of them have private pools and terraces, and they give guests direct access to the soft sandy beaches on the bay.
The resort has delicious dining options, from "Turtle Bay Bar & Grill" to "Hamilton's Gastropub".
Offering a spa with a range of holistic treatments, the resort also includes a relaxation area, plunge pools, and a hammam.
At Saadiyat Rotana Resort, family-friendly facilities include a kids' club with a dedicated play area, a children's pool, and attractive activities for the little ones.
---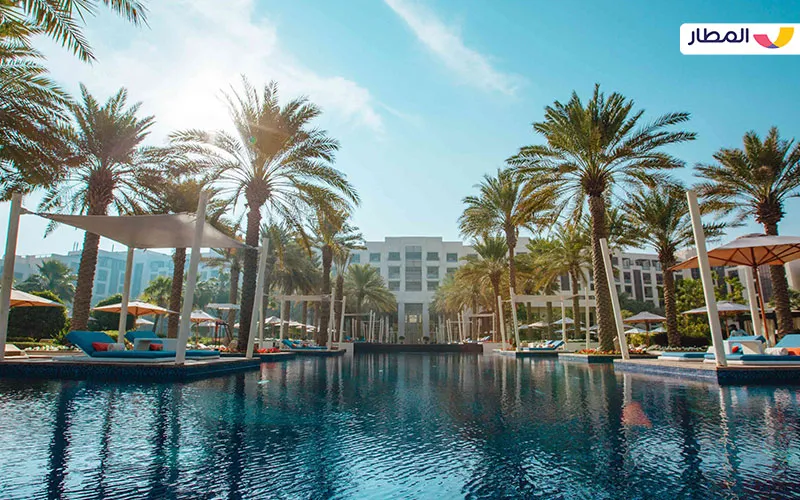 Park Hyatt Resort Abu Dhabi is one of the wonderful resorts located on Saadiyat Island, and it is one of the most popular destinations for tourists in Abu Dhabi to enjoy its luxurious advantages.
The resort has 306 well-equipped rooms, suites, and private villas. Many rooms and villas have private balconies and terraces overlooking the Arabian Gulf.
Park Hyatt Resort Abu Dhabi has a prime location on the Gulf Coast, providing guests with direct access to the golden sandy beaches of Saadiyat Island.
The resort includes distinctive restaurants and cafes such as "The Beach House Restaurants", "The Cafe", "Shala Beach Lounge," and others.
The resort includes a spa, a relaxation area, a plunge pool, and a yoga suite. The resort has a golf course, and guests can also enjoy a range of water sports, fitness facilities, and outdoor pools.