Suppose there is someone who is a professional in the luxury industry and provides everything that brings joy and happiness to the hearts of visitors and tourists. In that case, Jebel Ali Resorts in Dubai are among the best pioneers in this field. Their specialization is not only in the luxury industry but also in blending it with luxury, artistry, and high service. Those who visit these resorts come back to tell others they will return because one visit is not enough for this spacious and bustling place of all kinds of activities and entertainment.
Jebel Ali resorts are similar to Dubai itself in many ways. The most important of these things is that it decided to be distinguished and advanced in its field. Suppose Dubai is the region's number one investment and tourist attraction hub and ranks highly globally. In that case, Jebel Ali resorts are considered one of the most important hubs for the hotel and tourism businesses.
Jebel Ali's core resorts and hotels are 5-star hotels, stretching over the most beautiful views of the magnificent shores of the Arabian Gulf. It owns luxurious, beautiful hotel buildings surrounded by green spaces and crowned by swimming pools, playgrounds, and sports clubs. It has a vast choice of entertainment and provides many activities for adults and children. In family-friendly resorts, you'll find something for your children to delight in and make them spend times of joy and skill development that they will never forget.
We will not dwell further in this introduction, so let's look at the most beautiful luxury and pleasure options prepared for you in Jebel Ali Resorts and Hotels in Dubai. We will first mention their addresses to you before telling you about each one in some detail:
An excellent location near Dubai's lively city 
Luxurious individual and family suites
Many restaurants have international standards.
Stunning beaches with a pleasant atmosphere
Extensive entertainment options
1- An excellent location near Dubai's lively city
Jebel Ali Resorts on Google Maps: JA Beach Hotel
A feature of distinctive hotels and luxury resorts is that they are not located in remote and secluded places. With any means of transport, you can travel a short distance to reach some of your destinations and needs in vital locations in the city.
This is what distinguishes Jebel Ali resorts as well. With your stay, you are not far from what you want to do in Dubai and its active neighborhoods. The resort's location is on the main line of Sheikh Zayed Road. Many restaurants, malls, cafes, shops, and car rental sites exist on this line.
Some restaurants outside the resort area can be reached on foot, as they are close to the space reserved by the resorts.
To have a resort where you can stay in which you can isolate yourself from the world and enjoy peace and tranquility while at the same time being close to the pulse of the city and all its noisy details whenever you want, we are talking here about the beautiful resorts of Jebel Ali. That's why one visit is not enough to go there, and you'll experiment repeatedly to have this benefit.
Hurry up to book with the best competitive offers from the Al Matar website. Enjoy a beautiful summer at its most beautiful resorts.
JA Beach Hotel: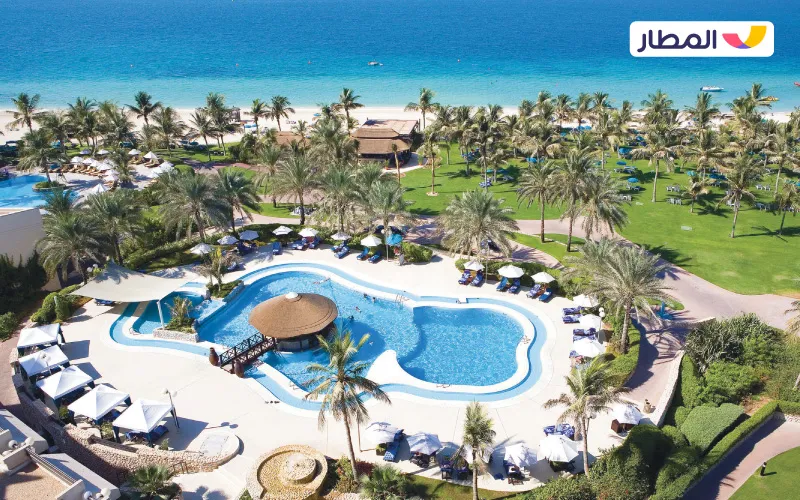 ---
JA Lake View Hotel: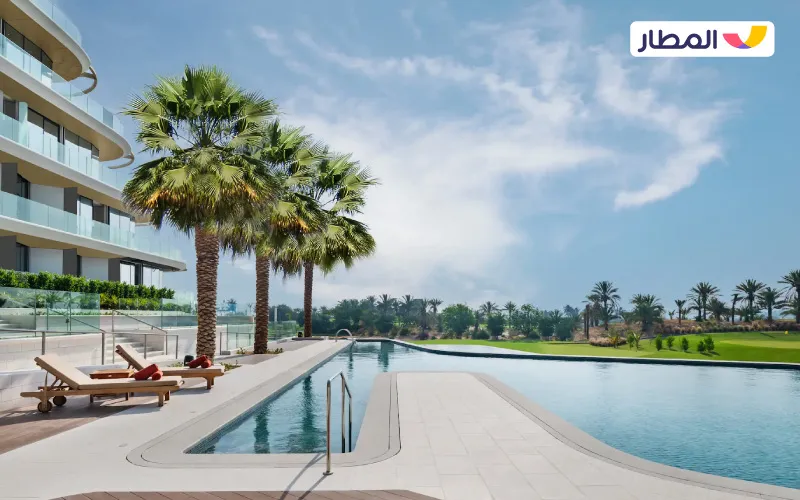 ---
JA Palm Tree Court: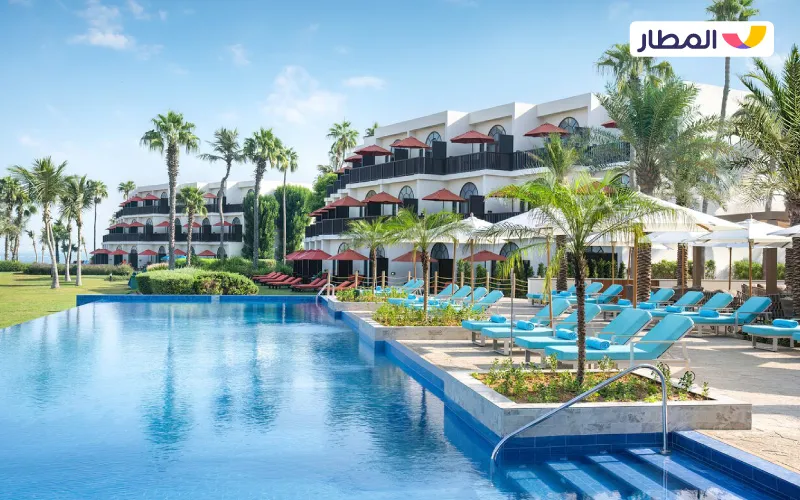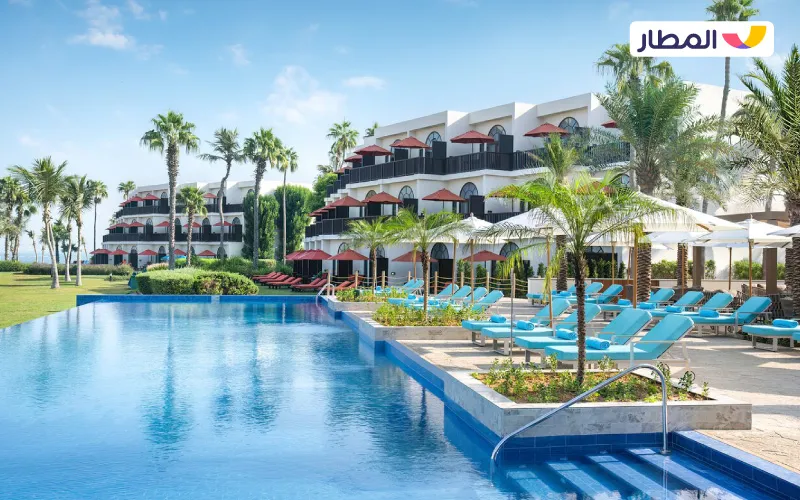 ---
2- Luxurious single and family rooms
The room and suite options available at Jebel Ali Hotels vary. You'll have plenty of opportunities for booking for you and your family. There are eight different room categories with great views. Imagine how some of these rooms have an idea of the large and beautiful golf course. Or on blue beaches, greenery, wooded areas, or a terrace with a private pool. You'll love trying all these options, and that's why One visit is not enough for these stylish hotels.
The rooms and suites are well-appointed and feature luxurious and distinctive décor. Private balconies or terraces connect rooms if you want. There is an en suite bathroom, a wardrobe, and an outdoor temperature-controlled swimming pool. Don't forget that these suites are surrounded by many restaurants where you can dine whenever you want.
---
3- Many restaurants have international specifications
One of the specifications of high-end and luxurious resorts is the presence of various restaurants and international cuisines. A limited variety of dishes does not limit the tourist. Jebel Ali Resorts is a leader in providing the best restaurants at its resorts. In this little space, it is impossible to mention the details of the restaurants, meals, and options. But we'll quickly go through some samples to provide background before you visit there. Always remember that a visit alone is enough for these resorts due to the variety of food options and where they are served.
At Jebel Ali Resorts, you are on a date with:
A) White Orchid Restaurant
The location of the restaurant, according to Google Maps: White Orchid Restaurant And Lounge
It is an Asian cuisine featuring Chinese, Japanese, and Thai cuisines, presented by professional chefs with a live cooking demonstration. Restaurant reviews are very high, according to Trip Advisor.
Visit this restaurant; don't miss it, and you can book at the hotel through the competitive offers on the Al Matar website and app:
B) Ibn Majed Restaurant
Restaurant location according to Google Maps: IBN Majed Restaurant
You will find various dishes from different international cuisines at Ibn Majed Restaurant. You can have your meals at other times: breakfast, lunch, and dinner. The services are exceptional. The restaurant has received positive feedback on well-known dating sites.
With a variety of dishes, a visit alone is enough. You can book at the hotel through the Al Matar app and website for the best prices. Book from here: 
C) Kinara Restaurant
The location of the restaurant according to Google Maps: Kinara by Vikas Khanna
For lovers of Indian restaurants, you will find the best meals at the hands of the most skilled chefs. You will enjoy the taste of food with aromatic Indian spices.
Restaurant Address: JA Lake View Hotel. If you want to book a hotel, use the competitively-priced Al Matar website. Book from here: 
D) Sports Cafe
The café's location on Google Maps: Sports Cafe
This café overlooks the marina, and in a beautiful atmosphere, you can enjoy seeing boats and ships and breathing the fresh sea air. The restaurant serves fast food, seafood, and hot and cold drinks. It's an ideal place to meet after workouts, and you can have fun watching live matches on its big screens.
His menu includes delicious breakfast dishes and kid-friendly menus. For lunch, you'll find a variety of seafood, salads, delicious soups, and exquisite desserts.
F) La Fontana Restaurant
The location of the restaurant on Google Maps: La Fontana Restaurant
It is one of the most highly rated restaurants according to the opinions of its patrons. It serves delicious international cuisine and buffets full of delicacies. His buffets include breakfast, lunch, and dinner. At La Fontana, you will find Arabic, Indian, French, and European cuisine. Vegetarians can also see what suits them in it. The views from the restaurant are great, and the service is elegant and luxurious.
---
4- Stunning beaches with a pleasant atmosphere
The beaches of Jebel Ali in Dubai are considered one of the most beautiful beaches in the United Arab Emirates, and they have many fun activities for visitors, charming golden spaces of sand, and beautiful and picturesque views.
The space that Jebel Ali resorts occupy on the beach is considerable. Considering the many water activities distributed along the beach line, you will know that one visit is not enough for this extraordinary place.
You can spend quality time with your family on the beaches of Jebel Ali. Boating is available, and you can play handball and volleyball, run on the sand, swim, and relax on the equipped chairs.
The JA Palm Tree Court Hotel has a great stretch of beautiful beaches in Dubai, and you can enjoy the views of the beach and the various activities there. Al Matar's website and app provide you with the best deals on this hotel and the other luxury hotels in Jebel Ali.
JA Beach Hotel: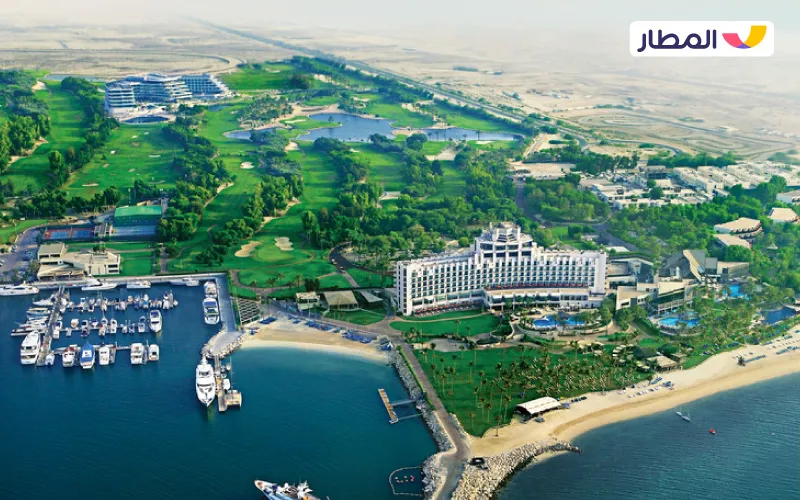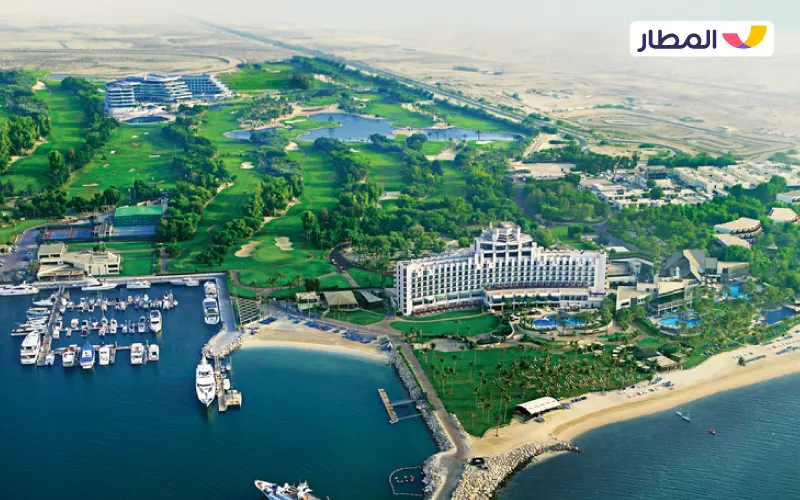 ---
JA Palm Tree Court:

---
5- Too many entertainment options
Jebel Ali Resorts in Dubai have many facilities that enable you to practice breathtaking recreational activities and adventures. Because of these facilities' extensive and varied nature, you cannot tour them all to experience them because one visit is not enough for such a place full of activities and exciting games. So prepare your schedule for more than one visit to have the fun and excitement that await you in this terrible place.
Among the entertainment options available, which we will only sample because they cannot be confined to this small space, are:
Shooting Club
Horse riding
Deep-sea diving
Golf Game
And other beautiful and exciting activities. All you have to do is book through the best website and application for travel and hotel reservations, the Al Matar website.