Have you ever dreamed of living on a small island isolated from the hustle and bustle of modern life, where beaches surround you with golden sand and pristine waters? Have you ever thought you could spend a lifetime in a small tropical paradise where you can have all the pleasures and entertainment you want? You can achieve this dream in one of the Maldives, yes, the Maldives. You have heard this name and its association with tourism and vacations. That is right. But the most remarkable thing is that JA Hotels & Resorts has a beautiful resort on one of these picturesque islands. Imagine the scene, please: a magnificent island, home to a spa with a fantastic tourism reputation and providing guests luxury and pleasure.
This combination of exquisite nature and service will make one visit not enough to JA Manafaru in the Maldives. The beauty there cannot be satisfied with it. After you leave, you will still have beautiful memories of your stay, and we invite you to repeat this fantastic experience.
How will you spend your vacation at JA Manafaru in the Maldives? This is what this article will try to answer. Before talking about it in detail, here are the titles that we will cover:
Location of JA Manafaru Hotel
Magnificent villas and suites prepared to pamper you
Eating and dining options 
Diverse activities and superior luxury
1- Location of JA Manafaru Hotel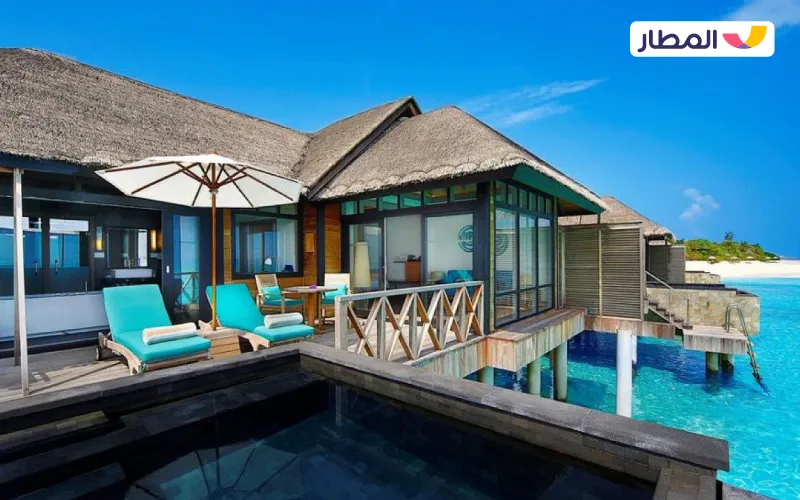 JA Manafaru Hotel is located in one of the Maldives in the north of this country, and the Maldives, which numbers more than a thousand islands, is located in Southeast Asia and is distributed in the Indian Ocean off the Indian Peninsula.
Manafaru Hotel occupies a small island, where the waters of the Indian Ocean surround its facilities.
The island is topped with dense tropical vegetation and walled by golden and shiny sand beaches. This atmosphere on the island forces you to stay in complete tranquility, where you can only hear the sounds of birds passing among tropical trees and the sound of the beautiful waves of the sea that inspire peace.
JA Hotels, located in several regions worldwide, chose this place in response to a group of tourists who want to spend a vacation in a small tropical paradise by the sea and adjacent to the charming green nature on the island.
Do not hesitate to use the Almatar website and app that offers you the most competitive prices.
---
2- Wonderful villas and suites prepared to pamper you
The most beautiful thing about JA Manafaru in the Maldives is the magnificent beach bungalows that penetrate the ocean and take you away from the beach. Imagine the splendor of staying amidst the ripples of water you can see from where you are sitting. This experience alone will convince you that one visit is insufficient for JA Manafaru.
The hotel also offers you overwater suites and villas with private outdoor pools. These suites are equipped, elegant, and adapted with their wooden design and color with the bustling tropical nature. During your stay in one of these suites, you will never feel anything that connects you to the rigidity of staying in cities where concrete fences are everywhere.
JA Manafaru has equipped the island with 84 villas and suites, including accommodation for two people and two children. Some can accommodate four adults and an infant. Some can accommodate up to 5 adults and two infants. Some can accommodate seven adults and three infants. Notice the vast options in accommodation to discover how the curators of the hotel did not neglect this aspect, especially since some may want a group trip with their friends or family.
Hurry up to book through the Almatar website and app, which offers you the best deals.
---
3- Eating and food options
At seaside and beach stays, seafood options are often available. The island's restaurant offers seafood delicacies, topped by grills and a shrimp buffet.
The restaurants there also offer various international meals, including delicious Maldivian meals. You can also enjoy fast food, pizzas, and Asian delicacies. This is without losing sight of the cold and hot beverage options.
You'll dine at JA Manafaru in the middle of the Indian Ocean, where the air plays with the blue waters—sipping your favorite drink and the sound of the sea waves caressing your ears get you into a state of peace and relaxation. This feeling will make you decide that one visit is insufficient for this earthly paradise.
---
4- Various activities and superior luxury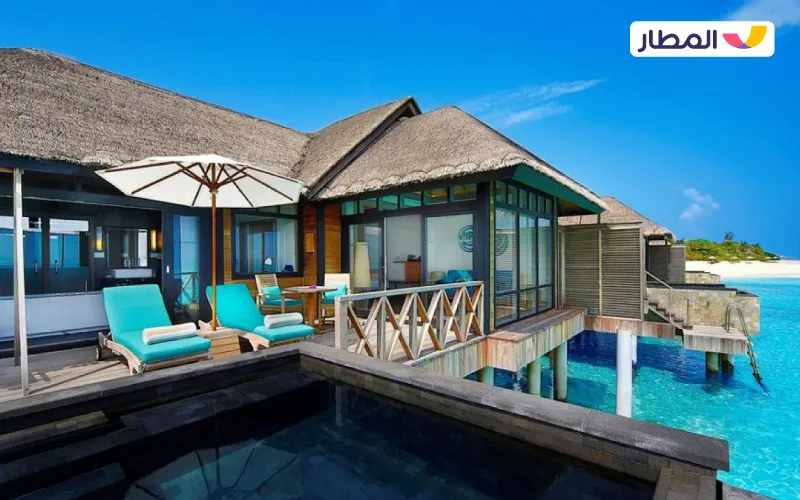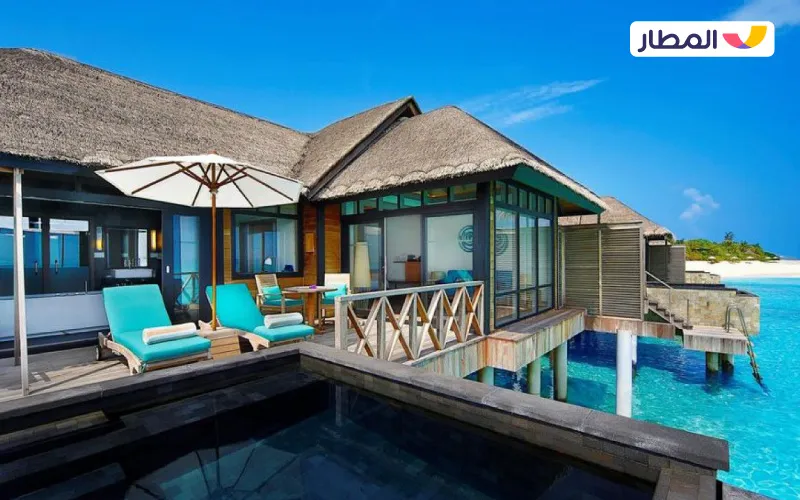 JA Manafaru Resort in the Maldives offers a range of beautiful and fun activities suitable for adults and children. Indeed, many of these activities will be around water games as they surround you from all sides.
Activities at this resort include surfing, water skiing, marine scooter, fun tubing, single-board surfing, windsurfing, kayaking, stand-up paddleboarding, floating, and canoeing.
You can also practice the hobby of diving, discover the depths of the Indian Ocean, and play a game of volleyball in the water.
You can also tour the island and explore its beautiful nature on foot or by bicycle.
What we have mentioned to you does not fully accommodate the activities in this place so we will devote a separate article to it. But rest assured that you will never get bored there, and the pleasures and activities will haunt you because of their abundance and diversity. You will discover that one visit is not enough for this beautiful tropical paradise.