Of course, the city of London will offer you the best hotel accommodation and will offer you many options and locations; you just have to choose the most suitable offer for you. The city of London is a very ancient city; it is the home of culture, art, museums, ancient history, magnificent parks, and beautiful monuments. As if everything in London is calling you to enjoy its individuality and aesthetics, you live in a state of psychological comfort by merging with all these wonderful components. Hotels in London take seriously the provision of a comfortable and quiet stay for their guests, both in terms of the facilities and hotel equipment they provide and in terms of location and the possibility for the visitor to contact all the things that provide him with a pleasant and luxurious stay. Below, we will review a list of the best comfortable hotel offers in London, which includes a spa and various aspects that provide comfort and recreation. And the menu of site preferences on Booking.com.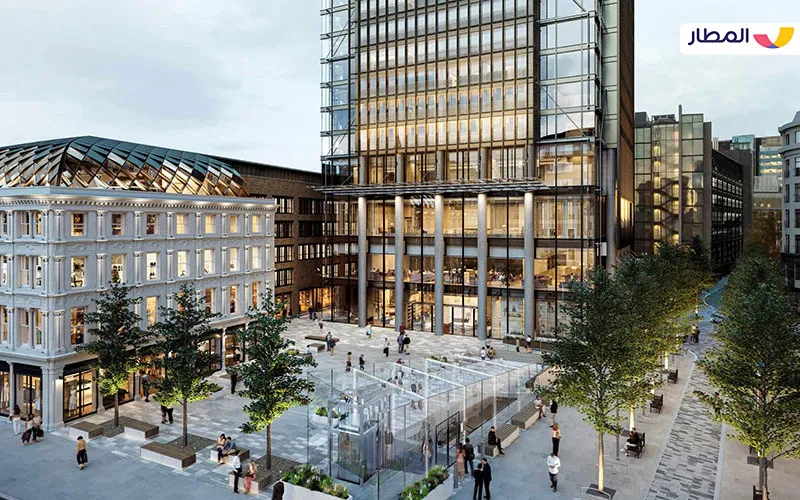 It is located in the luxurious Square Mile district of London. Combining exquisite design with luxury, the hotel offers a wide range of dining and drinking options close to Liverpool Street Station. The rooms and suites are spacious and luxurious, equipped with floor-to-ceiling windows. The rooms have a flat-screen TV with satellite channels and tea and espresso makers. An indoor swimming pool and a high-performance interactive fitness center are on hand at the hotel. It offers a sauna service and rooms for treatment, rejuvenation, and a relaxing experience. According to the comments of some hotel guests, they very much enjoyed the spa, and the spacious hotel rooms were a reason to rest and have fun. The hotel has six restaurants and bars serving Asian cuisine and great drinks. Famous London attractions such as the Tower of London, St. Paul's Cathedral, Shoreditch district, and Borough Market are located near the hotel. London City Airport is about 9 kilometers away. Pan Pacific Hotel London offers guests a luxurious and comfortable experience with high-end design and distinctive services in a central location close to famous London landmarks.
---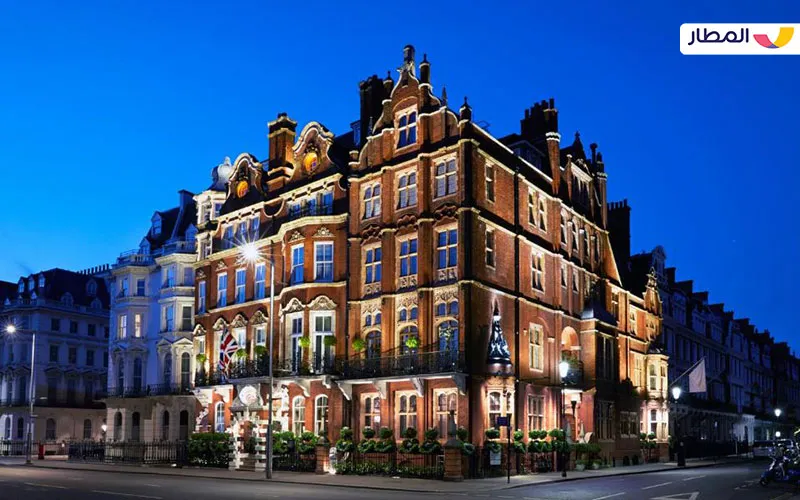 Milestone Kensington is a 5-star luxury hotel ideally located between the Knightsbridge and Kensington areas of central London. It offers an exceptional experience of luxury and relaxation as it overlooks Kensington Palace and gardens and is within walking distance of Hyde Park and the Royal Albert Hall. Its rooms have a unique and elegant design, giving guests a romantic atmosphere. These rooms have modern technology and luxurious retro-style furnishings. Amenities include a flat-screen TV, DVD player, minibar, and seating area. The hotel offers a swimming pool with a resistance swimming feature, a fitness center, and a luxury spa for guests. Guests can enjoy relaxing in the elegant winter garden and having cocktails. The visitors to this hotel praised the cleanliness and high-class service, which brought comfort to them. The hotel is within walking distance of the Victoria and Albert Museum and the famous Harrods department store. Finally, the Millstone Kensington hotel offers a distinctive experience for guests looking for comfort and relaxation, combining elegance, antiquity, and modernity, making it a great choice for recreation in the heart of London.
---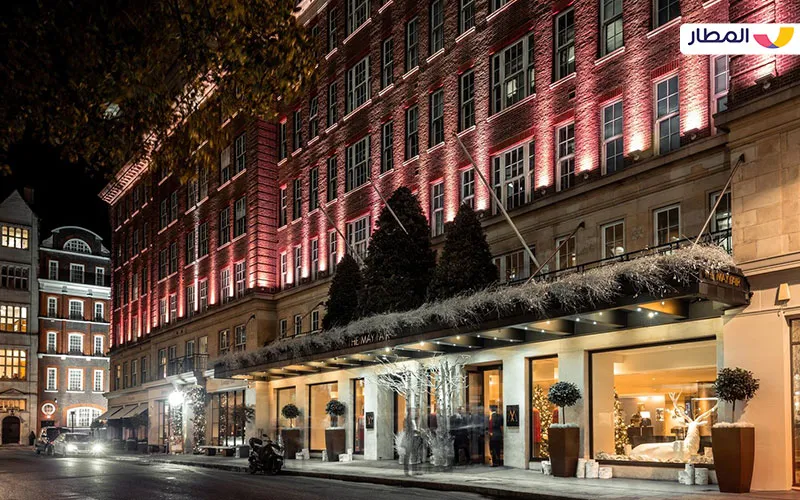 The Mayfair London Hotel is a 5-star luxury hotel located in the heart of London's Mayfair district. The hotel has a lengthy history, having first opened in 1927, and is in close proximity to parks, theaters, and other attractions, making it the perfect location to take advantage of central London's cultural and entertainment scene. The hotel rooms are elegantly and modernly decorated, with luxurious bathrooms with free toiletries. The beds have feather pillows and bed linen made from high-quality fabrics, which makes the hotel rooms ideal for rest, sleep, and relaxation. Amenities include high-speed Wi-Fi and a TV with 300 channels in multiple languages. My Fair restaurant has a kitchen that offers a multifaceted experience with a combination of Japanese and Italian cuisine. The hotel has a cinema, a quiet spa, and a gym that works around the clock. The hotel's location gives access to exclusive cafes, boutiques, and jewelry shops on Bond Street and Berkeley Street. The May fair Hotel London combines elegance and luxury while providing a range of amenities and services that make your stay special and comfortable. Its central location, luxurious design, and availability of entertainment are great advantages for visitors looking for a relaxing and charming experience in the heart of London.
---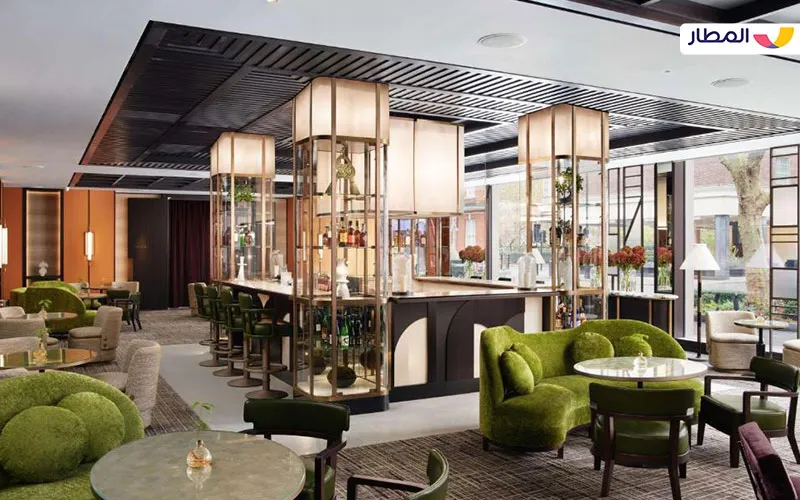 Nobu London Portman Square Hotel is a modern hotel located in London's West End, a 5-minute walk from Oxford Street and Hyde Park. The hotel has an elegant design and has 249 rooms and suites, with free Wi-Fi and a variety of dining options. The rooms have a stylish and cozy design, inspired by the traditional English garden in neighboring Portman Square. These rooms have comfortable beds, different types of pillows, modern equipment such as a flat-screen TV, and a minibar. Room service is available 24 hours a day. The hotel has a luxurious wellness and fitness center and offers a range of signature treatments. The great location of the hotel allows guests to easily reach vital areas of London and public transport, including Marble Arch metro station. The Nobu London Portman Square Hotel offers a luxurious and comfortable experience for guests with a combination of elegant design and modern fittings. It is an ideal place for recreation and relaxation in the heart of London and a starting point for exploring its cultural and entertainment attractions.
---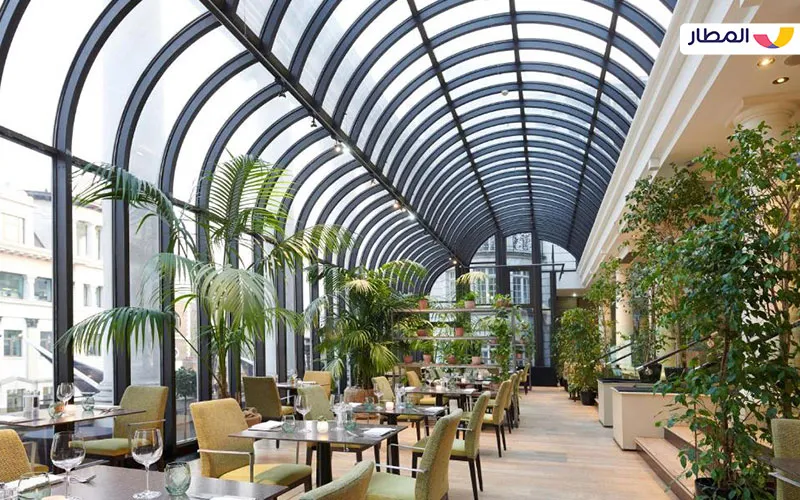 The Dilly Hotel in London is a historic and central hotel with an exceptional location between Piccadilly and Regent Streets, offering a wonderful and comfortable accommodation experience in the city center. The rooms are spacious, elegantly furnished, and equipped with bathrooms. The rooms offer all modern amenities and include a refrigerator and 24-hour room service. The hotel is a 10-minute walk from the shopping boutiques on Oxford Street and Bond Street. It is less than a 5-minute walk from Piccadilly Circus, allowing easy access to more attractions. The hotel has a health club with a steam room, a fitness room, and modern squash courts. The Dilly hotel in London allows guests to enjoy a beautiful experience with the amenities available and the ideal location with easy access to the most prominent sights of the city and its shops.
---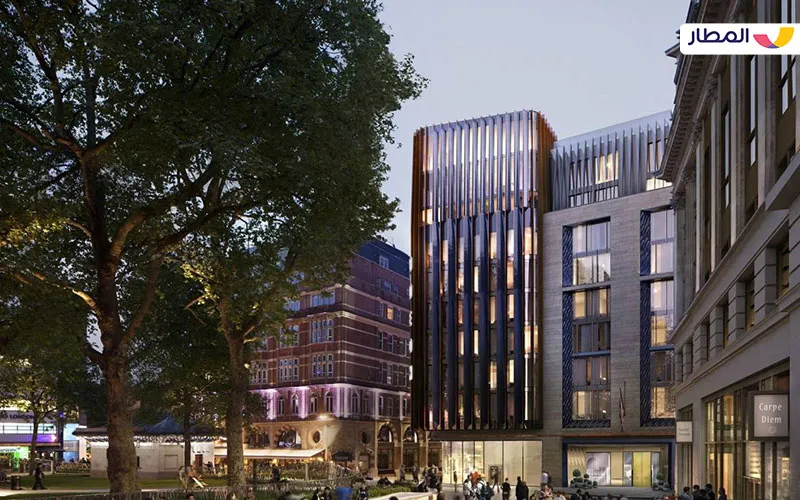 In the world of the Londoner hotel, you are on a date with luxury, comfort, and relaxation through the facilities it offers, in addition to six restaurants and bars that reflect a unique style. Do you imagine a rooftop lounge and a luxurious spa with a swimming pool and fitness center? And not only that, the options also include a health food system clinic and a beauty salon. Each room is an address of style, with a table, a flat-screen TV, and a private bathroom. And it's not just here; guests are given exclusive access to "the residence", a private club for residents only. There, they can relax and enjoy the inspiring atmosphere of" the drinking room", or switch to" the way bar", a multifunctional place that turns from a daytime workspace into a night-lit social platform for cocktails and snacks. "The Londoner" is a luxurious oasis in the heart of Leicester Square, within walking distance of places such as Soho, Covent Garden, Trafalgar Square, and local transport. Immerse yourself in this unique experience and enjoy signing with the Premium Legend Luxury Hotels & Resorts Group.
---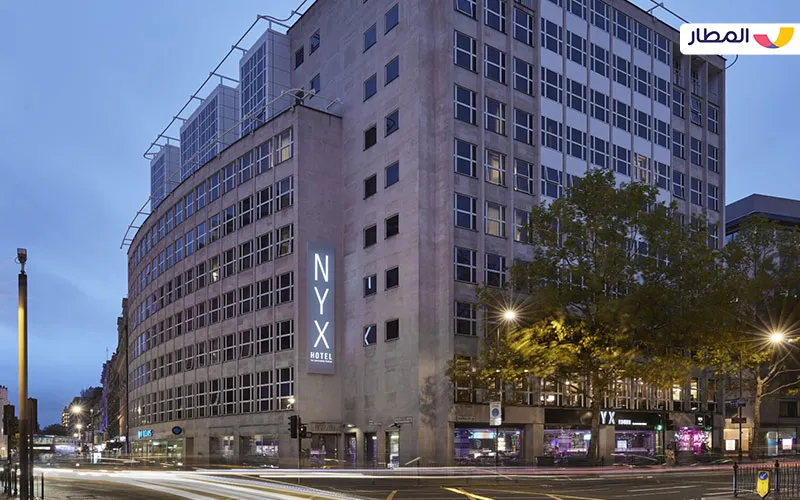 Get ready for a relaxing experience in the city of London beyond imagination at the NYX Hotel London. Here, luxury and comfort combine to offer you an unforgettable stay. Delight your gaze with the details of the spacious rooms, decorated with luxurious hand-carved furniture of fine elegance. The hotel's relaxation facilities bring peace and comfort. Immerse yourself in the atmosphere of the spa, which features a luxurious Roman pool, and be pampered with a variety of beauty treatments. Do not forget to visit the fully equipped fitness center, which offers specialized guidance from a team of professional trainers. The location of the NYX Hotel London is incredibly important, as it allows you to easily reach the most important sights of London. Explore the famous British Historical Museum, have a great time in the lively Covent Garden District, or enjoy the atmosphere of Leicester Square. All this and more can be reached on foot from the hotel.
---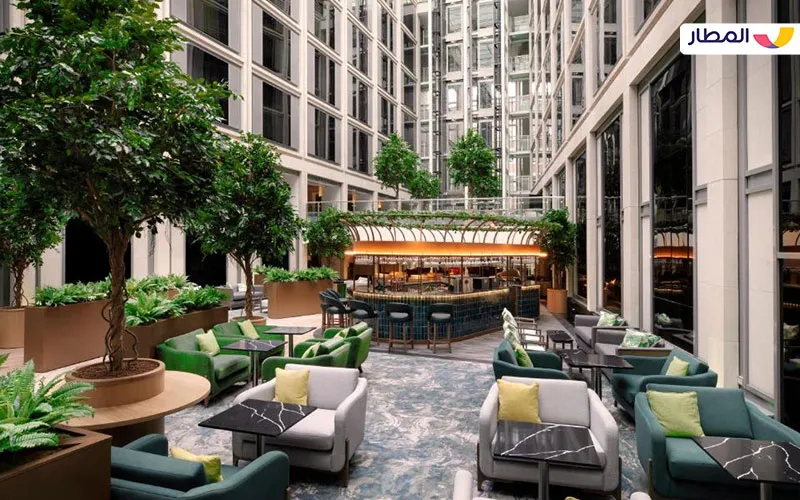 Embark on an unforgettable journey at the Leonardo Royal London St. Paul's hotel, as if you are living dreams of super luxury with its elegance and comfort. This top-rated luxury hotel has a unique location, balancing business chic with a relaxing atmosphere near St. Paul's Cathedral in central London. Luxuriate and relax in elegant, tastefully decorated rooms, with luxurious bathrooms featuring power showers and toiletries adding a touch of luxury. The rooms also offer a flat-screen satellite TV, soft bathrobes, and free Wi-Fi for a complete experience. Enjoy a full buffet breakfast that makes you feel energized, and enjoy a great dining experience at the hotel's luxurious restaurant and bar. Shine your best at the "Reina" fitness and wellness club, where you will find modern facilities such as a fully equipped gym, personal trainers, and fitness classes, and relax at the "Reina" spa, which offers a range of luxury treatments, a hot tub, and a sauna. The hotel is steps away from St. Paul's metro station and the London Stock Exchange, and a short walk from Wan New Ching shopping center and the Shakespeare's Globe Theatre. Immerse yourself in the world of luxury and comfort at this exceptional London hotel.
---
9- Rosewood London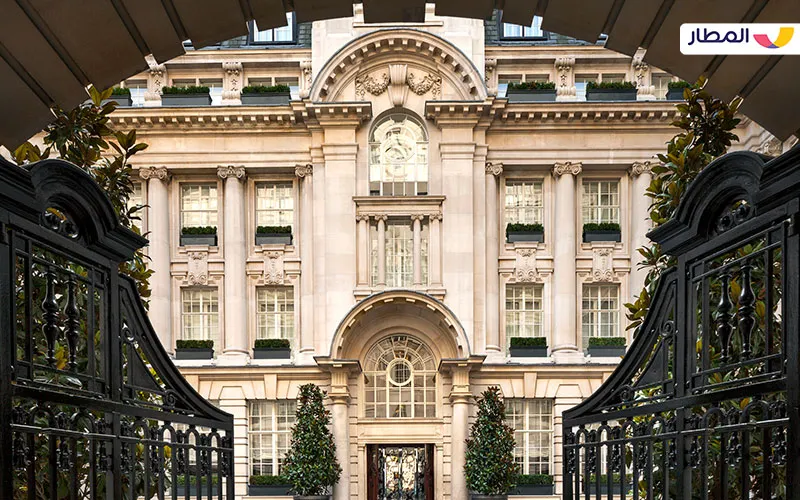 Get ready for a super relaxing experience at the comfortable and luxurious Rosewood London hotel in the heart of High Holborn. A short drive from Covent Garden and Oxford Street, elegant and spacious rooms with carefully designed furniture and Italian marble bathrooms await you. The rooms are equipped with flat-screen TVs and coffee makers to ensure a comfortable and special stay. Enjoy the atmosphere of luxury and relaxation at the Rosewood Spa, and savor delicious cuisine in the stylish on-site restaurant. Start your day with a delicious breakfast in the dining room, offering a menu that includes abundant options, ranging from traditional English breakfasts to healthy and continental options. The Rosewood Hotel is ideally located, just a 3-minute walk from Holborn Tube station, allowing you to easily transfer around the city and directly access Heathrow Airport. Enjoy a luxurious and comfortable stay that combines comfort and style in the heart of London.
---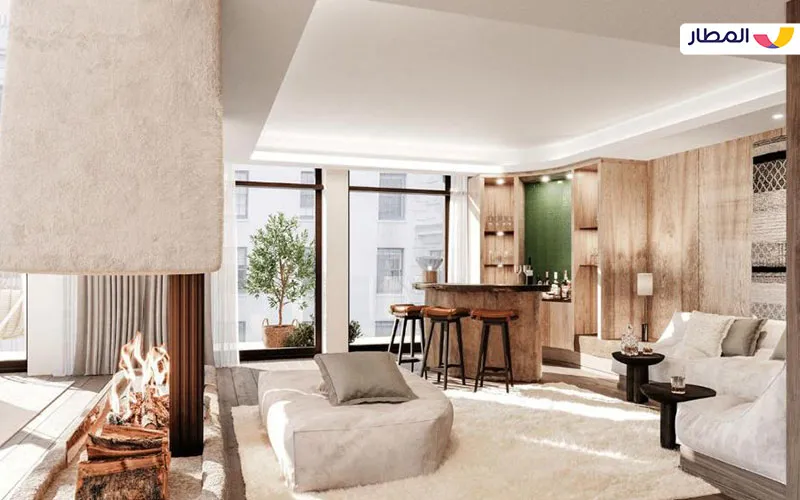 Enjoy a luxurious stay at the 1 Mayfair Hotel, located in the heart of London's luxurious Piccadilly and Berkeley Street districts. You can easily explore the aesthetics of Green Park, the charm of the West End district, and the splendor of Regent Street, all just a few minutes walk away.
The hotel's air-conditioned rooms offer a unique experience, with satellite TV, pay movies, a minibar, and a spacious private bathroom.
Stroll through the famous London highlights, where you can easily reach Piccadilly Circus, Buckingham Palace, and shopping on Oxford Street, all within a 10-minute walk.
Enjoy a memorable dining experience at Tom Sales' Michelin-starred Dovetale restaurant, which serves seasonal menus made with organic ingredients.
The hotel's excellent location provides easy access via Green Park Underground station, and there are excellent transport links to Victoria railway and bus stations. Enjoy a luxurious stay and explore the beauty and history of the heart of London.