Abu Dhabi never ceases to amaze its visitors with luxury hotels and resorts stretching along the Arabian Gulf's picturesque coasts. Wherever you wander in Abu Dhabi, you will find only tourist facilities that have been created to make the tourist visit it always to spend periods of rest and recreation, to perform a work task, or to make the family delve into the most beautiful sights that are scattered next to the hotel accommodations. The most prominent things you will find when you visit Abu Dhabi hotels are the prestige and beauty of the facilities, the amenities and recreation facilities available there, and the high level of service you will receive.
Saadiyat Island Resorts in Abu Dhabi is one of these destinations where you will gather all the fun and luxury in one place with blue water spaces, both through the pools and beaches surrounding you everywhere. You can stay in a suite surrounded by the picturesque sparkling waters of the bay, and you can move from your room to the water quickly. You are surrounded by fast and high-end hotel service wherever you go.
We won't talk too long in the introduction. How about we move on to talking about the most beautiful of these resorts on Saadiyat Island to get acquainted with them and make a reservation in one of them at the earliest opportunity through almatar application, which you will find offers the best travel offers ever.
 Here are the addresses of the resorts that we will talk about one by one:
1-St. Regis Saadiyat Island Resort, a world of luxury
2-Jumeirah Saadiyat Island Resort is a wonderful world of fun and relaxation.
3-Rixos Premium Saadiyat Island, a luxury family resort.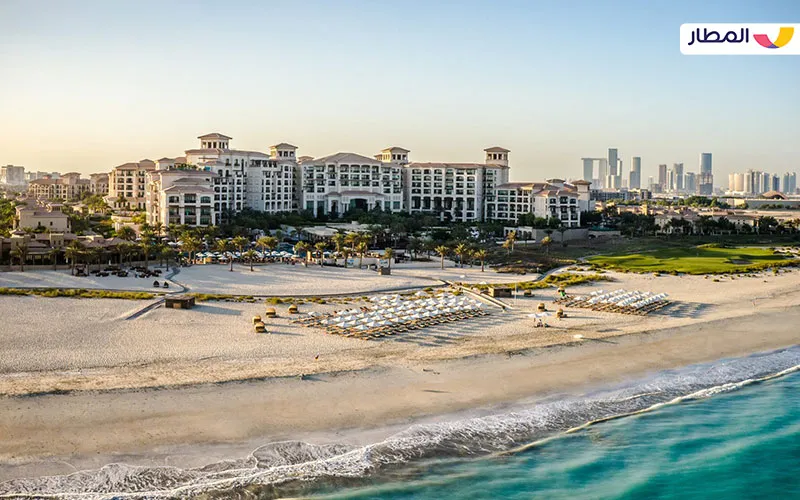 At the St. Regis Resort on Saadiyat Island, you will visit not just a well-equipped hotel but the luxury itself, and you will find yourself surrounded by the most beautiful that hotel services can offer anywhere. This is a 5-star hotel that will impress you from the first day of your stay to the last day.
Get ready at the St. Regis Saadiyat resort for an unforgettable experience and delight your senses with a magical trip there, where you will discover a perfect world specially prepared for relaxation and tranquility. At the St. Regis Resort, the natural beauty of the beaches with their golden sands is combined with luxurious amenities. This resort is in a particular area on a 9-kilometer-long coast, surrounded by transparent and crystal-clear water that inspires tranquility. The vibrant city of Abu Dhabi and the souks are only 10 minutes away, allowing you to enjoy the perfect combination of relaxation, entertainment, and shopping.
The rooms and suites of the St. Regis Resort shine with exceptional elegance, offering stunning panoramic views of the Arabian Gulf. With the resort's butler service, you will have an incomparable and distinctive experience. You will not find another place that combines ancient heritage with hospitality and modern luxury to the same extent as this place.
At the St. Regis Resort, you will enjoy various culinary experiences through various distinctive restaurants and lounges. The menus will take you on a gastronomic journey through multiple flavors, while the Iridium Spa and other wellness activities provide an opportunity to relax and rejuvenate.
Immerse yourself in an atmosphere of tranquility on one of the beautiful sandy beaches, or enjoy the various water activities the resort offers. Stylish chalets and swimming pools will enhance your outstanding experience at this luxury resort.
It should be noted that the resort has an excellent Saadiyat Beach Golf Course, which enables you to combine your love of travel with your passion for golf. Book your stay today and enjoy an extraordinary adventure combining luxury and exploration at the St. Regis Saadiyat Island Resort in Abu Dhabi.
---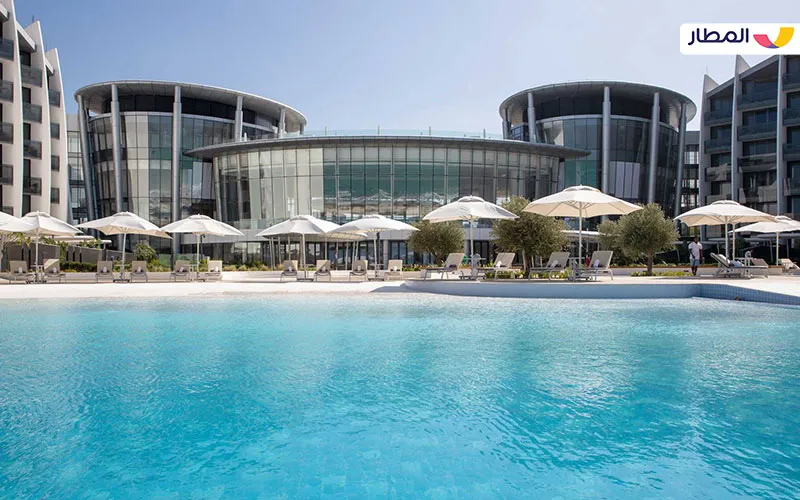 By visiting Jumeirah Resort on Saadiyat Island, you will enter a vast world of relaxation services and get intensive doses of tranquility and recovery. Whatever your mood, this resort can make you leave your previous state to indulge in everything that brings you well-being and peace of mind.
Get ready for an exceptional experience in the heart of Saadiyat Island through Jumeirah Resort. This fantastic resort is located next to the Saadiyat Beach Club, allowing you to enjoy the most beautiful beaches on the island directly. The hotel's simple design and rich, earthy colors will immerse you in an environment that harmonizes with the natural beauty that surrounds you.
Thanks to the luxurious spa and beautiful swimming pools, enjoy a fantastic stay. Don't miss the opportunity to enjoy enchanting sea views from the elegantly designed full-glass suites. And the culinary experience in the distinctive restaurants that offer you wonderful international and Arabic flavors in line with the magnificent sunset view.
For a more private experience, enjoy your stay in the elegant villas that come with private pools. The resort has a design that makes you feel like you are in a luxurious summer house, with elegant interiors that combine comfort and luxury.
The vast resort has seven excellent restaurants, 15 treatment rooms, and three outdoor pools. You will feel like you are in a private retreat as the hotel has exceptional personalized service that will make your experience unparalleled. You will also enjoy various activities and services offered by the service care team at Jumeirah.
At Jumeirah Saadiyat Island Resort, you are on a date for an unforgettable trip where you will touch art, nature, and comfort in the best possible way.
---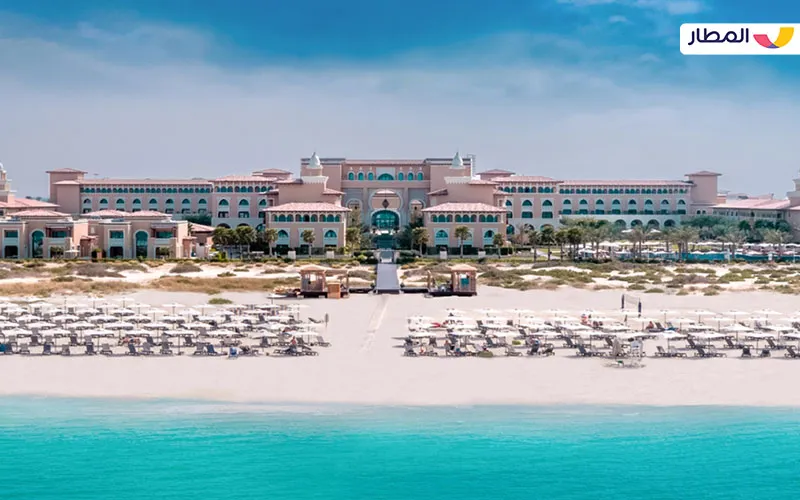 Rixos Premium Hotel Saadiyat Island is designed to be a resort suitable for you and your family. In addition to the luxury features of the hotel, it also includes facilities that provide fun and luxury for your children to experience an unforgettable tourist trip.
The resort has a Rexy Club for children from 4 to 12 years old. It is an entertainment club par excellence, as it provides children with the opportunity to develop their various skills, the most important of which is communication. People with competence and experience in talent development and nurturing hobbies found the club. Accordingly, at Rixos Premium Resort, your children will not only be waiting for entertainment but also for the great benefit that will bring them a successful future.
The resort has an excellent sports club for fitness lovers. You will find trainers who will accompany you when you need the best and most luxurious resistance and fitness tools. And you can work out in the fresh air and go for some exciting water sports. Swimming, canoeing, and other activities are available with instructors who provide you with all the support and experience.
And you can pamper yourself at the Rixos Premium Resort, one of the largest spas on Saadiyat Island. The alternative is unique in the so-called Snow Room, which is the only place with such a place in Abu Dhabi. What is essential is that in this health center, you will find everything that concerns your health, youth, and mood with the best-experienced cadres in this field.
As for the restaurants, you will have an exclusive and incredible experience with the most delicious international restaurants and the best cuisine, from snacks to gourmet international recipes.
At Rixos Premium Resort Saadiyat Island, you will enjoy charming panoramic views of the shores of the Arabian Gulf. The resort offers 378 magnificent residential units consisting of 366 rooms and suites and 12 luxury villas with three or four bedrooms, some of which have private swimming pools.
The resort has a privileged location, as it is less than half an hour away from all the beautiful sights of Abu Dhabi, including the Louvre Abu Dhabi, Sheikh Zayed Mosque, Ferrari World Abu Dhabi, and Abu Dhabi International Airport.
The description I have given you is an understatement of the reality of the experience you will have at the resorts on Saadiyat Island. These luxury resorts will be your ideal destination for a memorable holiday and to have the most beautiful time with your family.