When we want to talk about the performance of specific activities at JA Manafaru in the Maldives, it is not only about the nature of these activities that the resort has prepared for its guests but also the nature of the place where they will be practiced. The activities you will do on this beautiful island are fun and fabulous, but the place is also very cool, like a tropical paradise in the middle of the ocean. For example, if you want to do yoga or softness, how wonderful is it to do it in a place like this? The Indian Ocean stretches with its clear waters in front of you, surrounded by a forest of tropical trees and plants, and the waves tickle on one side, as do the sounds of birds that lie among the branches. Every detail of this place, from nature to resort to excellent service, wants to convey a basic idea: one visit is not enough for JA Manafaru Maldives.
Before we talk to you about the beautiful activities you can do in this place, we will review their titles independently:
Deep diving in the Indian Ocean
Exciting water activities
A fishing trip of a lifetime
Various sports activities
A journey of discovery of the local culture of the Maldivian community
1- Diving in the depths of the Indian Ocean
At JA Manafaru Resort, you can dive into the Indian Ocean and explore some of the ocean's nature. You'll see beautiful coral reefs and keep a close eye on marine life full of fish of many kinds.
If you are a beginner in diving, never worry; the resort deals with a diving school whose task is to take your hand until you become a professional diver gradually. Diving courses for beginners begin in dedicated lakes. Then they continue with you until you can dive into the same ocean. If you meet the conditions for scuba diving, prepare for this fun adventure, as the respirator provides you with access to places you would not be able to reach without it.
In short, the diving experience can only be superb and exciting in such a place. And you will never stop remembering your travels to the ocean's depths, where tranquility and dim light are located. And for all that, one visit is not enough for JA Manafaru in the Maldives.
To get a diving experience, you must book at this resort through the best app, the Almatar app.
---
2- Exciting water activities
JA Manafaru Resort offers you a range of fun and exciting water activities. Between 8:30 a.m. and 6 p.m., you can practice several of them. You have to visit the water sports center next to the jetty; from there, the doors to various activities will open for you. What do you think of kayaking? Are your sleeves ready for this fun activity? And you can also paddle on stand-up boards! What a pleasure to do it while you feel the sea air sweeping your face!
If you're looking for more excitement, you can drive a jet ski and defy the significant currents of the Indian Ocean.
You can also hire a speedboat for a private trip or a cruise around the island.
Your heart will never stop beating as you practice one of these fantastic activities, and you will never get full of it. And the magnitude of the excitement will make you realize that one visit is not enough to get there.
The application and website of Almatar provide you with the best deals to visit this fun place.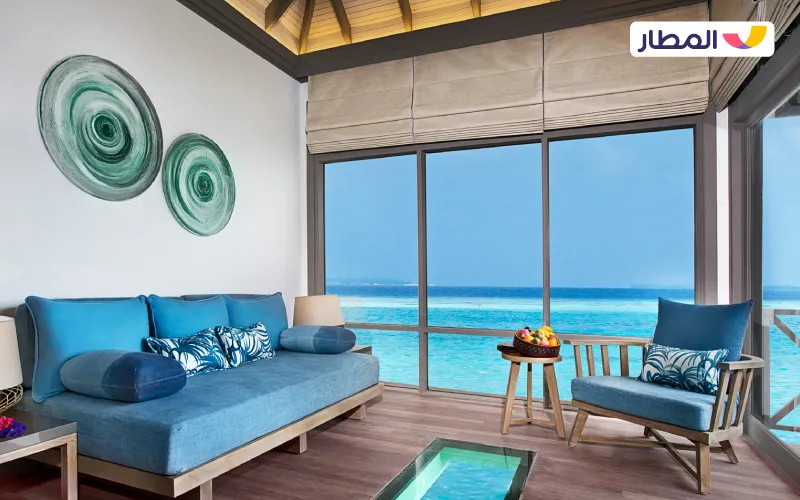 ---
3- A fishing trip of a lifetime
You may have experience fishing on the beach with a hook or other means. But the resort of JA Manafaru has prepared a cruise for you to participate in an extensive fishing tour for 3 hours. On this trip, get your fish harvested and return to the island to cook it with the help of one of the chefs in the restaurant. Enjoy a seafood meal that you have made an excellent effort to get.
The fishing trip involves enjoying the sight of the sea, the sun that sets behind the horizon, and the crashing waves that carry the cruiser and make it sway. There is nothing more enjoyable than the experience of fishing in the middle of the sea. Those who experience this experience will never stop asking for it again. One visit is not enough to JA Manafaru Resort.
---
4- Various sports activities
At JA Manafaru Resort, you can practice many sports activities that benefit your body and mental health. The most beautiful thing about performing these sports is the exceptional atmosphere of the place on an island in the middle of the ocean. What you can do requires commitment and perseverance.
What can you do? Outdoors, you can play tennis. Or take an exploration around the island. And you can do this by bicycle.
In indoor spaces, you can practice softness and yoga. There are also places dedicated to some water sports, especially swimming.
---
5- A journey of discovery of the local culture of the Maldivian community
The best thing about traveling is that it opens the door for you to get to know your human counterpart in different parts of the earth. Coming into contact with other communities and penetrating their culture enriches your experience, develops your culture, and provides you with awareness and wisdom.
JA Manafaru allows you to get to know the traditional culture of the Maldives, taking you to some of the islands where communities of people and families are settled. On this tour, you will learn about their heritage, traditions, language, food, and way of life.
For this enriching experience, book at JA Manafaru Resort through Almatar app and website.