Some who do not know Saudi Arabia may think that this country contains only yellow and flat sandy deserts. Still, this belief is entirely wrong, as Saudi Arabia is a vast country and embraces diversity in terrain and climate. It has high mountain ranges spread over large areas. It has fertile, green spaces with a beautiful environment. It has vast coastal stretches on the Red Sea and the Arabian Gulf. This means Saudi Arabia is a vital tourist country due to its natural and geographical potential.
Mountaineering in Saudi Arabia is among the most popular sports for everyone, especially young people. Even women have the privilege of participating in this critical and vital sport. How exciting it is for a tourist to head to mountain sites that have rarely been trampled by human feet throughout history, discover them, and enjoy their tens of millions of years old geological monuments.
1- Climbing and mental and physical health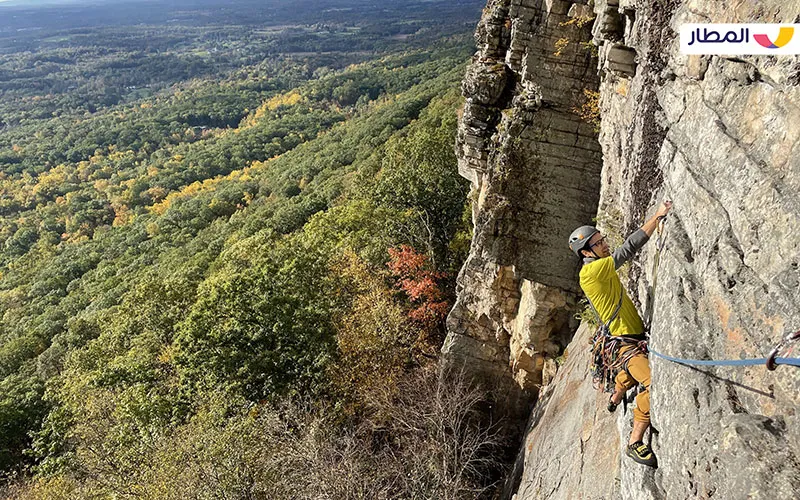 Mountain climbing has tremendous and significant benefits, through which a person can significantly change his previous psychological state in which he lived in the city, moving to the heart of virgin nature and facing the fresh mountain air in conjunction with rocks, vegetation, and wildlife in all its details. This activity enhances the climber's self-confidence and shows how terrible it is to be able to cross a mountain path uphill with its difficulties and hardships, which reflects positively on the psychological state.
Mountain climbing has benefits for the health of the heart and arteries and for the entire human body. It is through it that the body's muscular structure is strengthened in many places. This effort in this place gives the mind clarity and strength and enhances the challenging muscle to face dilemmas and problems.
By climbing, you gain psychological qualities such as patience, fortitude, concentration, not giving up on trying, and learning from failure.
Head to practice this exciting and fun sport in the mountains of the Kingdom of Saudi Arabia, and take the most beautiful pictures there that will remain for you later as one of the most beautiful memories in your life.
2- Where can you climb mountains in Saudi Arabia?
Souda Mountain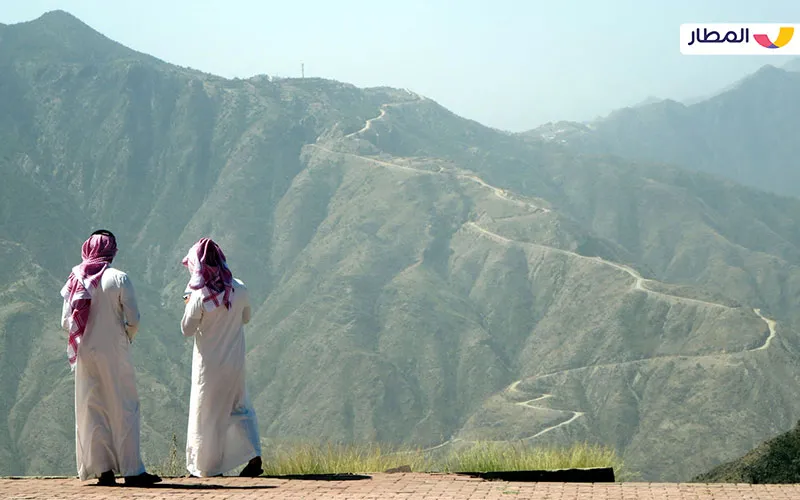 Jabal al-Soudah in Saudi Arabia is among the highest, if not the highest, heights. It is located northwest of the city of Abha. It is one of the most prominent tourist attractions in the Kingdom and the Arab world. On your trip to this mountain, you will encounter slopes covered with juniper trees, which form a large area and give the place a wonderful aesthetic. You will find many valleys, waterways,  and lakes.
In short, your trip to Jebel Souda will be a lifetime experience, satisfying your passion for exploration and adventure.
Tuwaiq Mountain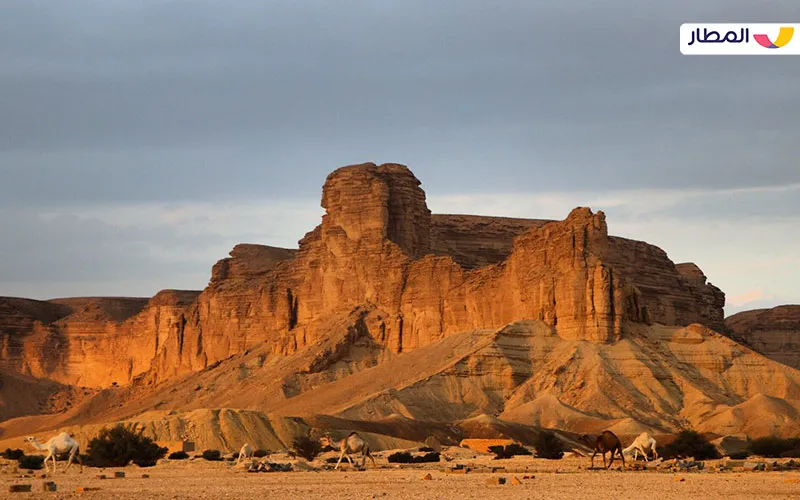 It is ideal for climbing, hiking, and camping. It is located in the center of Saudi Arabia. One of the advantages of this destination is that it is not far from the capital, Riyadh, for those who want to go there. Reaching its highest peak, Mount Bloom will open up a breathtaking view of the surrounding valleys.
Wadi Lajab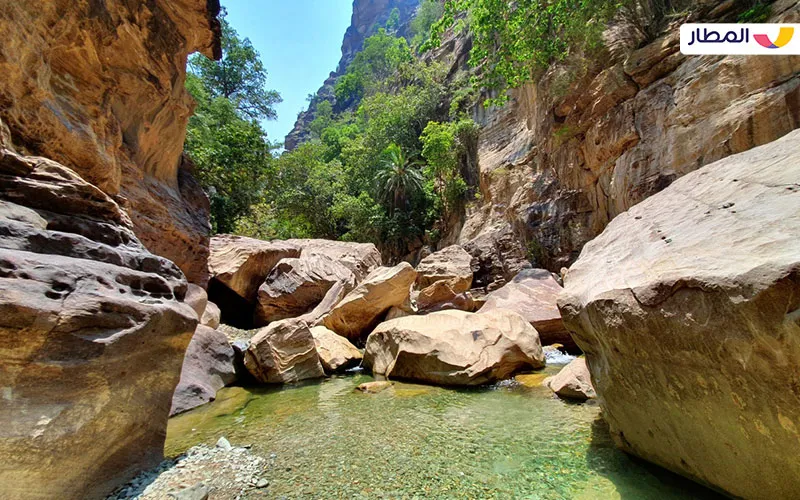 In the Al-Raith region, Wadi Lajab is located in Jizan, in the eastern part of Mount "Al-Qahr Zahwan". It is about 150 km from Jizan, which overlooks the Red Sea.
Wadi Lajab is an ideal place for nature lovers, climbing and docking with the rocks and the water flowing through them. The visitor to this place is on a date with beautiful views of the charming nature. On his journey, he will find small waterfalls, lakes of various sizes, and dense trees.
One of the exciting scenes that you will find while walking between valleys and rocks is the layers of rocks that are distributed according to the different locations between granite, marble, and others.
Get well prepared for this trip because the challenges of the rough roads await you, but this challenge will guide you to the most beautiful sights and the most incredible experiences in the lap of charming nature.
Fifa Mountains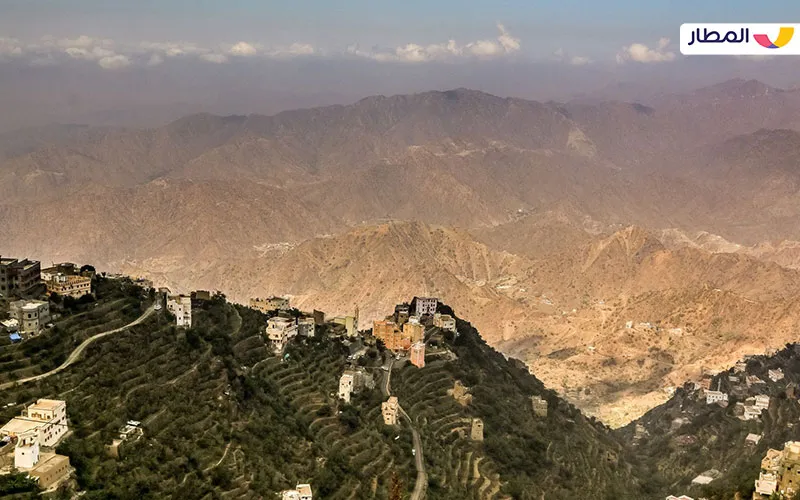 The Fifa Mountains are a mountain range located in the southwest of Saudi Arabia and almost east of the Jazan region. Its heights reach more than 2600 meters. It is one of the most prominent tourist attractions and best climbing destinations.
Climbing its heights will make you oversee super-beautiful scenes of greenery that are spread through cascading terraces and critical tree cover.
Be careful while climbing these heights due to the presence of solid slopes and off-road, which increases the challenge and increases the excitement for those wishing to climb and adventure.
Jabal Farwa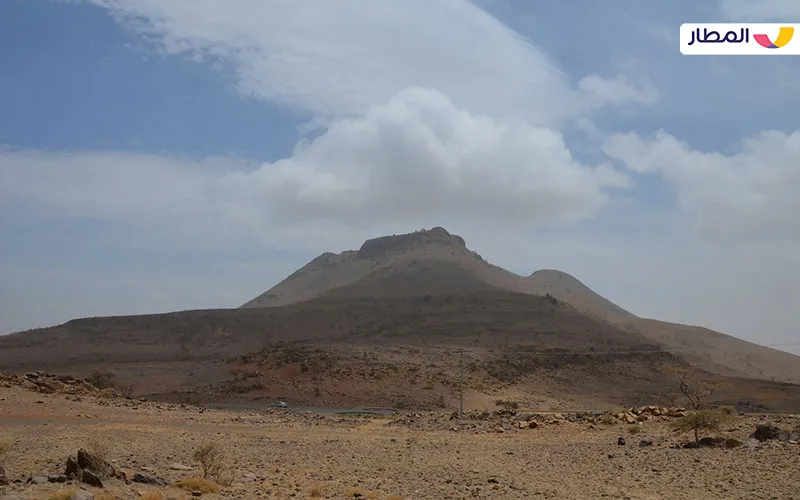 Jabal Farwa is one of the towering mountains in Saudi Arabia. It belongs to the Sarawat mountain range in the mountainous Asir region. Vegetation and tree cover near the mountain and on its slopes are few. Walking and climbing is, therefore, a climate challenge, as visitors to this area will have to arm themselves with sun and drought at all times. The best time to climb it may be in winter and spring when it rains, and the weather is pleasant and more relaxed. From the top of the mountain, you will overlook magnificent stretches of lower mountain peaks and the many valleys surrounding them. The scene of rough terrain will impress you, and the mountaintop air will refresh your lungs.
3- What do you need to practice climbing?
The beginnings are usually tricky and arduous, but with following the instructions, patience, and endurance, it becomes easier and more accessible, and the difficulty turns into fun and suspense and reaches countless great benefits.
Beginners should prepare well for the climbing mission, and it is essential to be experienced. Whether the climb takes only one day or even a week or more, you must follow the necessary instructions and provide everything you need for this trip.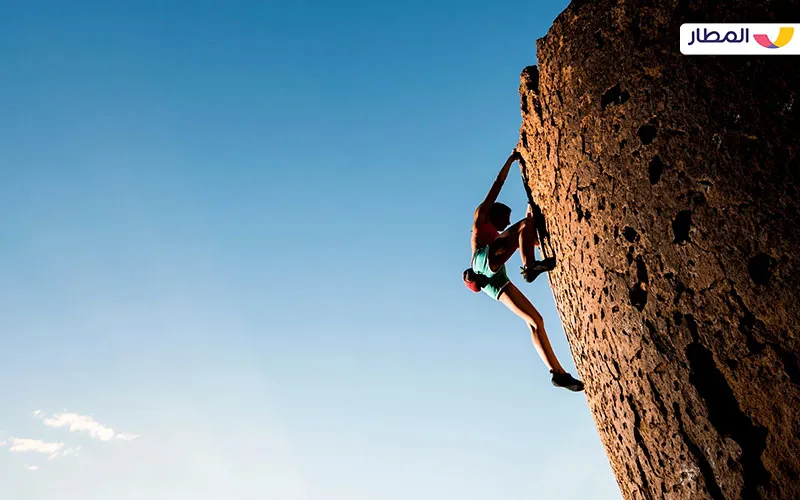 Essential things to prepare before a trip to any mountain are:
1- Physical preparation: Going on a climbing trip with a poor physical level is wrong. Try to improve your fitness and do cardio and resistance exercises well before the trip.
2- Clearly define the destination: each has its own instructions and equipment. Identifying where you want to go helps you get to know them before you head out, and you can then prepare in advance for what this climb needs.
3- Taking adequate instructions: undergoing a course in climbing and the techniques you need, and training on the tools you will use.
4- Plan well: Good planning significantly reduces the gaps and bumps you may encounter.
5- Don't rush to reach your goal: Climbing is a challenging journey, and it will provide you with experience and many benefits. From here, head to the top of the mountain with patience and determination.
6- Ensure that all necessities are secured, food, water, appropriate shoes, belts, laces, good clothes, a hat, and glasses.
7- Going in a group: The group must have sufficient experience in climbing and dealing with slopes and heights.