The Qatari stadiums where the 2023 AFC Asian Cup will be held are in the Qatari capital, Doha. This makes it close to the most important landmarks, next to lively neighborhoods, markets, and incredible tourist destinations.
And near these stadiums, you will find many hotels with varying ratings. In this article, we will list all the stadiums at which the tournament will be held, mentioning the nearest 5-star hotels to them. We will say only one hotel near each stadium.
1-Sultan Hotel near Al Bayt Stadium
Hotel rating:
5 stars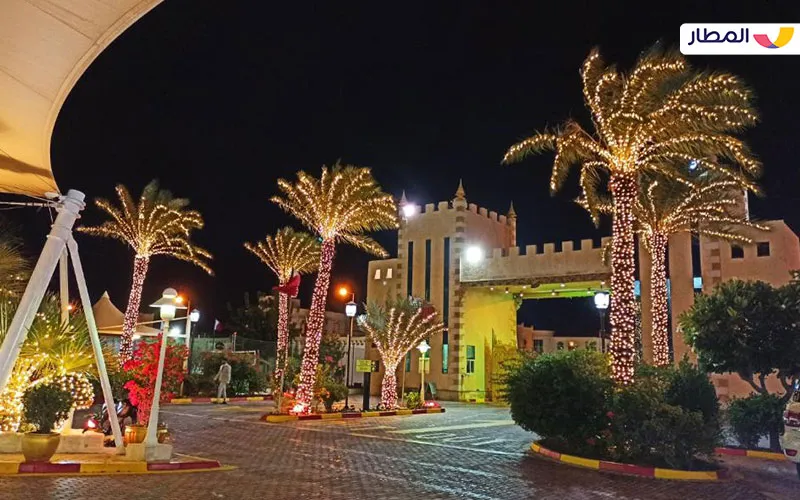 The hotel is 5.7 km from Al Bayt Stadium, and the periphery of the stadium can be reached in 10 minutes by car. Sultan Beach Resort was once a fishermen's village, overlooking a private beach on the shores of the Arabian Gulf. You will find an outdoor swimming pool that adds a unique charm to your stay there.
Sultan Beach Resort features the orientation of rooms and suites around the main pool and the promenade stretching along the beach. You can taste seafood with Italian touches at the resort's al Dente restaurant, which has a romantic atmosphere. And if you are looking for a place to relax, the lagoon bar offers a variety of drinks and snacks by the pool until late in the day.
The resort's location allows you to visit the beautiful sights nearby, including the famous Pearl Fishing Creek beach and the creek gardens. These are excellent destinations for exploring trips and enjoying the tranquility and natural beauty.
---
Hotel rating:
5 stars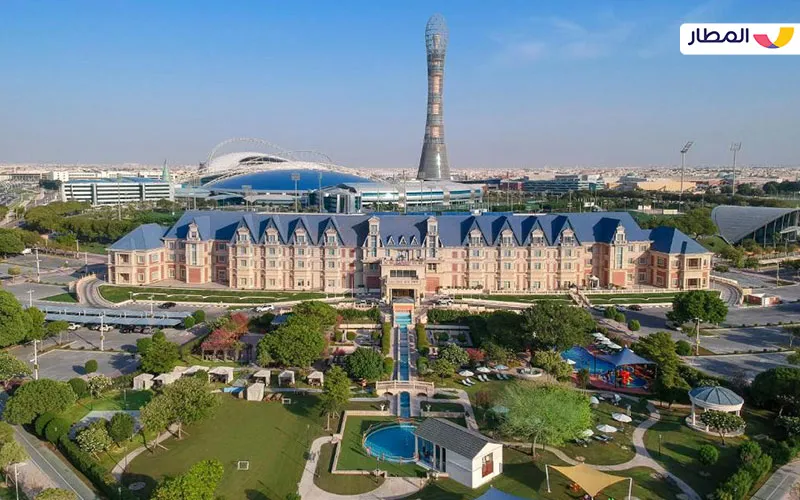 It is about 6.5 km from Education City Stadium, and it takes 9 minutes by car to get there. This hotel is a rare luxury in Doha, featuring outdoor spaces and luxurious green clubs. Combining the style of an English country house with a unique Victorian character, the hotel's design boasts charming natural views. The hotel has 139 elegant rooms and suites, featuring interiors that reflect Victorian personality and harmonize with warm colors and modern amenities.
Azizia Boutique Hotel is located in the heart of Aspire Zone, close to one of the largest shopping malls in Doha, Villaggio. Doha International Airport is a 25-minute away, overlooking the football fields and other sports facilities. The hotel is distinguished by its refined and meticulous services, with the addition of green spaces and gardens, giving fresh air and a refreshing atmosphere in the center of Doha.
---
Hotel rating:
5 stars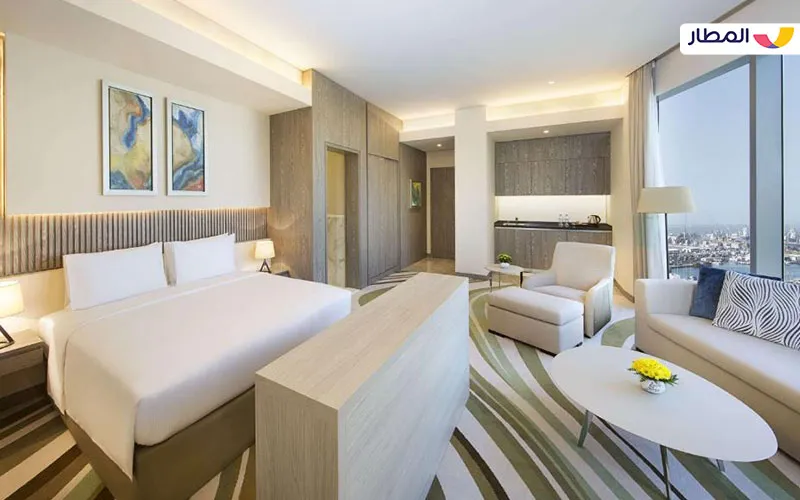 The hotel is about 2.7 km from Jassim bin Hamad Stadium, and you can reach it on foot in 35 minutes and by car in 7 minutes. DoubleTree by Hilton Doha is a unique experience that combines luxury and diversity.
Accommodations include spacious rooms and suites with a restaurant that allows you to taste delicious dishes around the clock. The ideal location allows you to explore the city during your trip, both for business and leisure.
Enjoy relaxing and fitness moments at modern facilities such as the spa and fitness center. Do not miss the international cuisine tasting, sandwiches, coffee, and fresh pastries in the restaurant "Open," which offers delicious options around the clock. For a unique experience, enjoy the sparkling rooftop pool, cocktails, and delicious cuisine, and enjoy a breathtaking view of the city from the rooftop bar.
---
Hotel rating
: 5 stars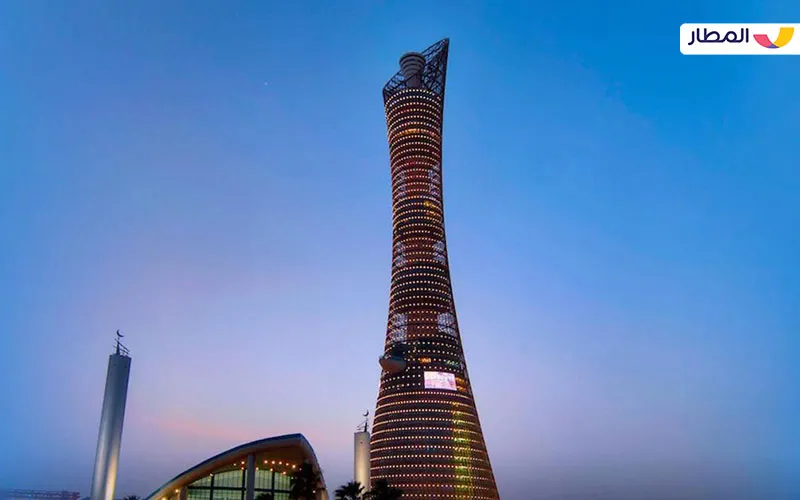 It is about 180 meters from Khalifa Stadium, and you can reach it within a 5-minute walk. The Torch Tower in Doha reaches a height range of 300 meters, offering a unique experience for its guests.
It is not just a hotel but a world that allows visitors to discover Doha from new angles. The hotel consists of 51 a floor with rooms and suites with luxurious facilities. In addition, the Torch Hotel offers a magnificent panoramic view of the city. The location is characterized by its proximity to the shopping center "Villaggio" and the Khalifa International Stadium.
---
5- Le Royal Meridian Doha Hotel near Lusail Stadium
Hotel rating: 5 stars
Hotel location: Le Royal Méridien Doha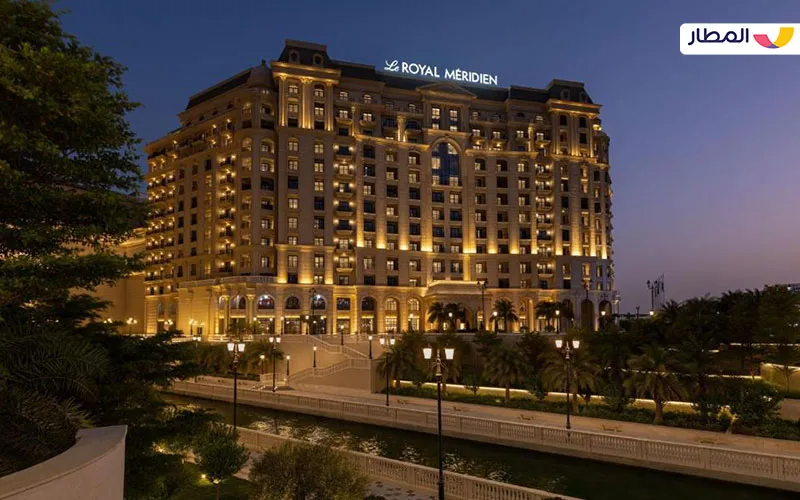 It is 4.8 km from Lusail Stadium and takes a 5-minute drive to get to the stadium. In the heart of the mesmerizing city of Doha, the eyes of travelers turn to the Le Royal Meridien Hotel, a place beyond description in the finest details.
This luxury hotel has an exceptional location; it is close to one of the most prominent shopping centers, Place Vendome Mall, overlooking the beauty of Al Maha Island and the charming Lusail Park. Easy access to the famous Darb Lusail Street is an excellent addition.
You can also easily reach such fantastic tourist attractions as Katara Beach and Katara Cultural Village, just a few minute's drive away. The hotel offers luxurious rooms and apartments with sea views, making it an ideal choice for travelers who like to be close to Doha's business centers and shopping stations and stay near Qatar's largest stadium.
---
6- Ezdan Palace Hotel near Abdullah bin Khalifa International Stadium
Hotel rating:
5 stars
It is 5.7 km from Abdullah bin Khalifa Stadium, and you can reach the stadium by car in 9 minutes. Ezdan Palace Hotel Doha is an ideal base for exploring Qatar's thriving capital, with easy access to critical business districts and entertainment facilities. The hotel is located next to Ezdan Mall, a landmark shopping center, and is only a short distance from significant shopping places such as Doha Festival City and Al Hazm Mall. Therefore, it is an ideal option for travelers interested in shopping and looking to have fun.
The hotel's facilities are not limited to accommodation but include a spacious outdoor pool, a hot tub, a bar serving refreshing drinks by the pool, and a private children's pool with a play area. To keep fit, the hotel offers a well-equipped fitness center, and the wellness areas are intended for both men and women.
In addition, the hotel is only 30 minutes away from Doha International Airport. It is close to critical educational facilities such as the Qatar Foundation, Qatar University, and the Qatar National Convention Center.
---
7- Al Rayyan Doha Hotel near Ahmed bin Ali Stadium
Hotel rating:
5 stars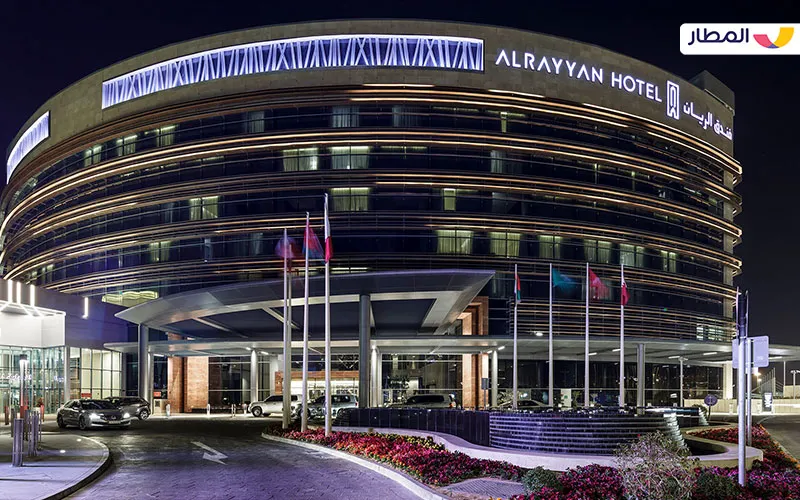 The venue is 1.6 km from Ahmed Ben Ali Stadium, a 17-minute walk from the stadium. In the heart of the Qatari capital, Al Rayyan Hotel Doha shines as a luxurious pearl in the world of hospitality. With its elegance and modern charm, this elegant hotel embraces the pleasure of an exceptional stay next to the Mall of Qatar, one of the region's most prominent shopping and entertainment attractions.
Considering the foundations of luxury and beauty, spacious and elegant rooms adorn the hotel's spaces, where guests find relaxation and luxury reflecting Art Nouveau designs. The interior design harmonizes with colors and decorations to create an unforgettable experience.
The hotel is spread over a spacious territory with three outdoor pools illuminating the Doha sky with their beauty, a children's play area, and a fitness center for sports lovers. Al Rayyan Doha is an award-winning hotel destination that combines originality, elegance, and Arabian hospitality.
---
8- Souq Al Wakra  Hotel Qatar, near the South Stadium
Hotel rating:
5 stars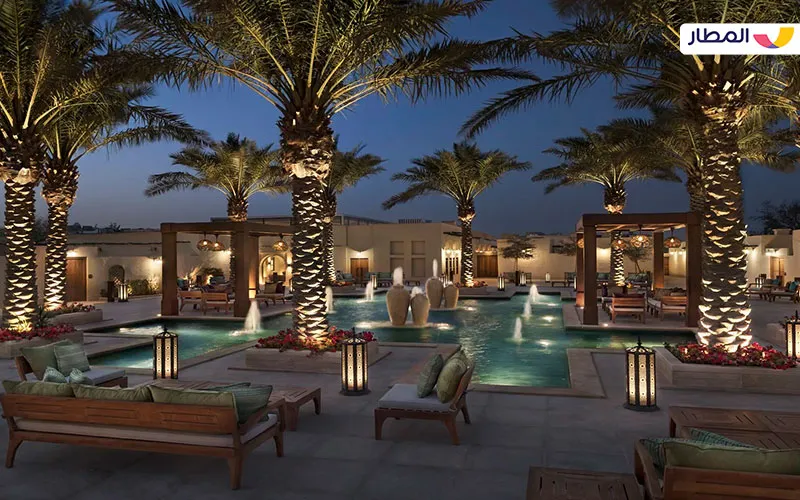 The hotel is about 6.4 km from the South Stadium, and you can reach the stadium by car in just 10 minutes. Get ready for a one-of-a-kind experience at Souk Al Wakra Hotel Qatar by Tivoli, where the charm of Qatari traditions meets modern luxury amenities. This beautiful hotel is located on the beaches of Al Wakra, in the heart of a vibrant area and overlooking the charming sea skyline, close to the center of Doha.
Enjoy a unique space and comfort during your stay, where travelers' needs are luxuriously met by staying in rooms that embody an integrated atmosphere combining originality and modern luxury. You will find yourself in a world of luxury and charm at the Souk Al Wakra Qatar Hotel by Tivoli, where a fantastic exploration of antiquity and renewal awaits you.
---
9- Hyatt Regency Orix Doha Hotel near Thumama Stadium
Hotel rating:
5 stars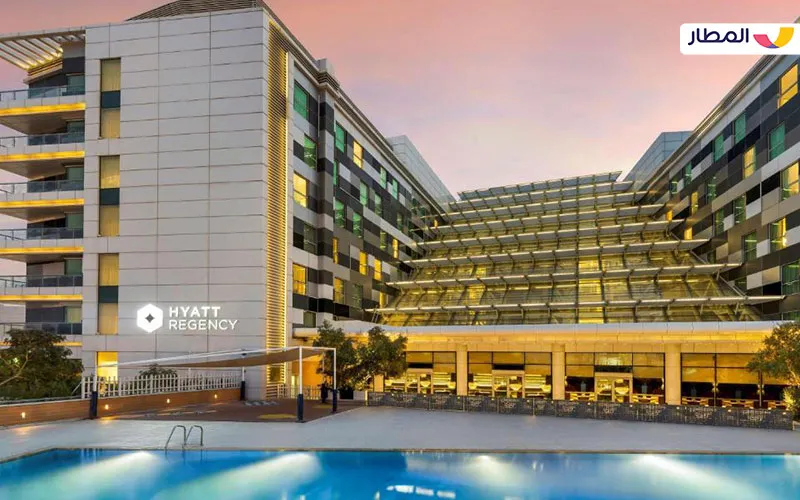 The hotel is about 6 km from Thumama Stadium, and the stadium can be reached in 15 minutes by car. Experience luxurious and comfortable accommodations in luxury suites with modern amenities and stunning interior design. The comfort and tranquility of the Hyatt Regency Oryx ensure an unforgettable experience for today's travelers.
When it's time to relax, you can enjoy exclusive privileges in the Regency Club Lounge or explore the hotel's leisure facilities, including the Olympus Spa and Fitness Club's outdoor pool, gym, and wellness area.
Do not miss the opportunity to taste the most delicious dishes in the hotel's unique and multifaceted restaurants, each offering fine cuisine to satisfy all tastes. Immerse yourself in the world of tapas and fine drinks at the cellar, or taste the flavors of delicious Lebanese food in the fountain garden, and don't miss the experience of the international buffet at Choice.