Graubünden Overview
Who among us does not know Switzerland, the crown jewel of Europe and the most renowned and stunning tourist destination in the entire world?
 Who hasn't been fascinated by the picturesque images of the Alps, the brick houses falling down their slopes, the dark green and captivating sheep's pastures, and the many waterfalls that appear to be carefully painted paintings to make the eyes freeze in front of them?
Switzerland has many cantons (called cantons, because of the nature of their political system), and one of Switzerland's largest cantons is Graubünden. It's okay, you may find it difficult to spell this and other names of cities and counties there, but all of this becomes heartwarming when you know that you are going to a place that is from another world because of its beauty!!
Speaking of Graubünden, did you know that this province is adjacent to Italy, Austria and Liechtenstein? Therefore, due to natural juxtaposition, you will find a mixture in which some of the beauty of the topography of these three countries is combined in addition to the glittering Swiss specificity. At Graubünden you are on a date with beauty, and nothing but beauty. You will find beauty in everything, even in the means and harbors provided by the province to harmonize in its form and performance with the mesmerizing nature.
Graubünden has three languages. It is the only canton with Swiss German, Romanian and Italian. But don't worry, English is widely spoken, and this is normal for a top-notch tourist country.
Graubünden is Switzerland's top tourist destination. This indicates that this province does not lack anything that tourists like, in addition to its beautiful nature.
Now here's a general outline of what we're going to tell you in this interesting article:
What is the weather like in Graubünden?

The most beautiful cities in Graubünden

Sports and activities in Graubünden

How about a visit to Heidi's hometown?

Great shopping in Grübinden

Food & Dining in Graubünden

The most beautiful hotels in Graubünden

Top Restaurants in Graubünden
Graubünden, a Province Full of Natural Beauty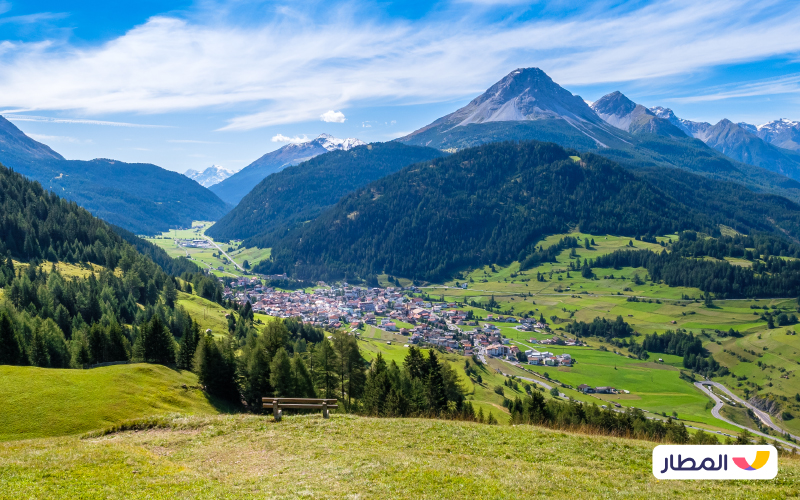 Graubünden is one of the most beautiful provinces in Switzerland, with many natural attractions, great tourist facilities, and countless activities. It is the largest canton mentioned above, accounting for 17.2% of Switzerland.
Graubünden has 937 mountain peaks and more than 1,000 lakes. Its charming and captivating valleys number up to 150. Its highest peak is Pez Bernina, which rises about 4049 meters above sea level. Have you considered the previous numbers? You will visit a geographical spot full of aesthetic diversity.
But don't worry; with so many of the means provided by the Canton, you can walk around and enjoy the most beautiful natural paintings ever.
What is The Weather Like in Graubünden?
The weather in Graubünden Canton in the summer is one of the coolest. It is ideal for those who love to take tours such as nature walks, cycling, climbing, touring the old cities, and visiting museums and attractions. You won't feel any unusually hot weather. Instead, the fresh alpine breeze will caress you with every move.
Due to the pleasant climate in the summer, the province is dotted with health resorts and long walking roads. And centers for treatment and care for the problems of aging.
The Most Beautiful Cities in Graubünden
Most of Graubünden's cities are beautiful, but we will pick for you the most distinctive and beautiful ones:
1- Flims: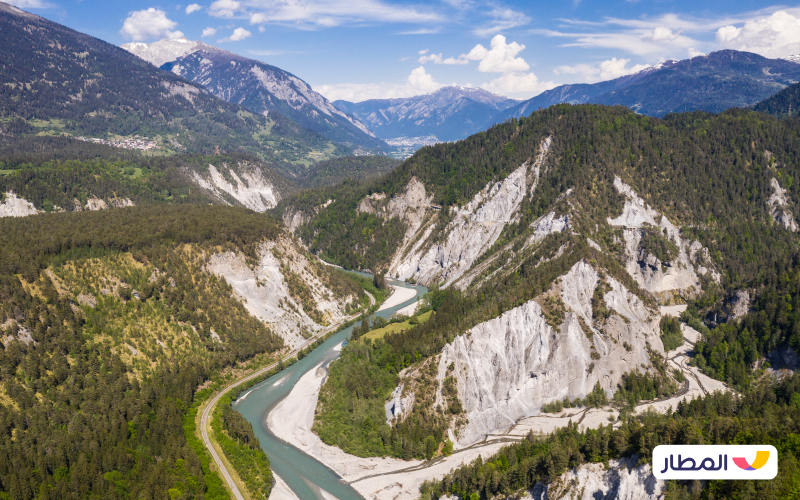 If you're a fan of hiking and exploring nature, this city has you covered. You will find roads equipped for the most beautiful tours. You can do this on bicycles. You'll pass through lakes, cliffs, mountain scenes, tree forests, and historical monuments.
The city of Flims is surrounded by many mountains, which will make most of the scenes you capture panoramic. Keep in mind that these tours are suitable for you and your family. The level of safety and equipment will make you and your family have the most beautiful field trips that you will not forget.
2- The city of Pontresina: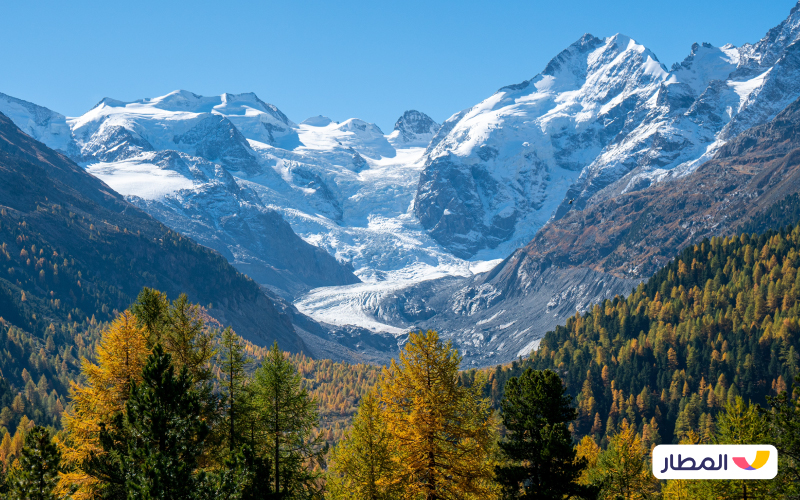 If you have been captivated by some ancient village scenery merged with the mesmerizing mountain landscape, Pontresina offers a hiking experience that combines history and nature. Even the resorts in this city will combine tradition and antiquity while providing the best services to tourists.
An exciting experience in this city is a pleasure train tour. It is so named because the train tracks are suspended on a mountain that reaches a height of more than 2450 meters. When the train reaches this mountain, you will watch all of Switzerland from above it. This train will cross the Italian border, and you will have a unique experience on it as you travel long distances through fun and picturesque scenery.
3- St. Moritz: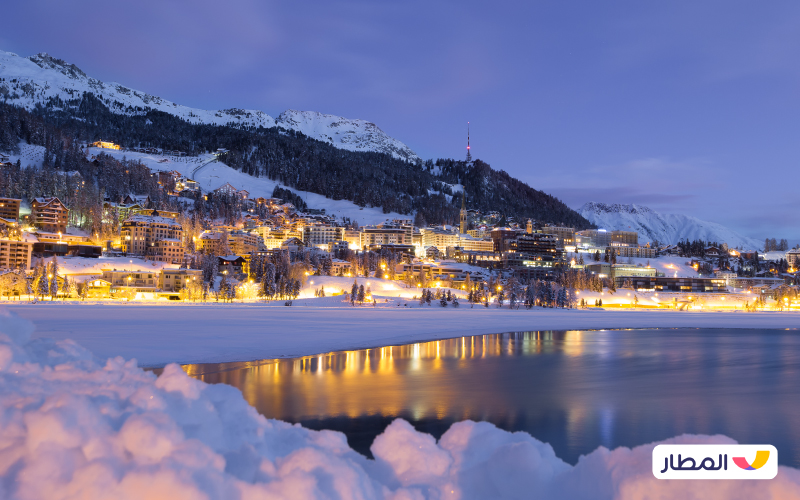 It is one of the privileged locations located near the Alps. This city has a magnificent urban character. It has many hotels and tourist and therapeutic resorts that provide the best service to visitors. This includes museums, art galleries, local and international restaurants, commercial centers, and entertainment sites. In addition to all of the above, it has beautiful nature, green spaces, and mountain views. It is enough that it was one of the cities that hosted the Winter Olympics twice because of its assets and equipment.
4- Davos: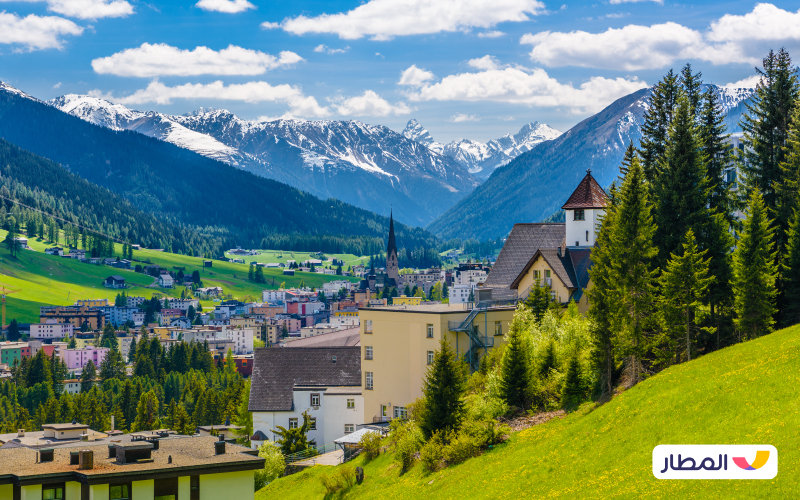 Located at 1560 meters near the Alps, it is the highest city in Europe. Its weather in the spring and summer is very beautiful. It is considered a tourist destination in the summer, as they head for a swim in its lake. Davos is a major center for summer and winter sports. It has the best ski resorts for the winter. In summer, tourists can ride aerial train cars and pedestrian paths in the middle of nature or ride bicycles or horse-drawn carriages. At Lake Davos, you can sail and surf. This is in addition to activities such as paragliding and other activities.
These wonderful cities await your honor; you are only one click away from being there!
Sports and Activities in Graubünden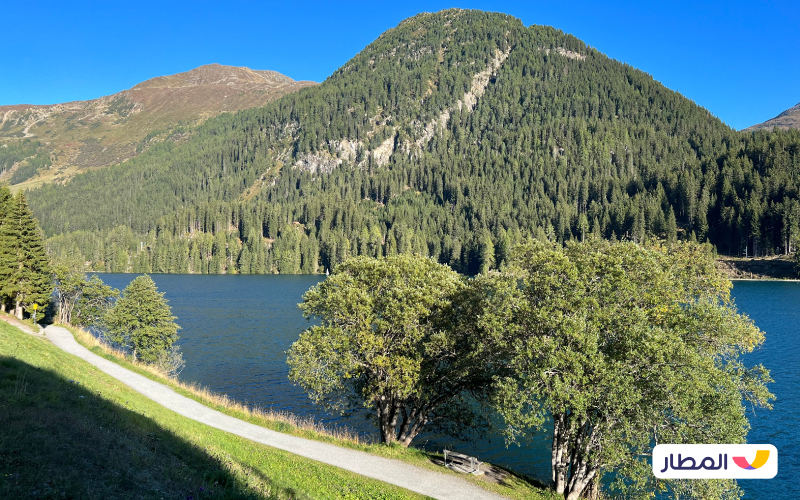 Because Graubünden is the largest province in Switzerland, it has many natural, historical, urban, and tourist attractions. Therefore, you will find yourself in front of many options for various activities that allow you to choose what you want to do according to your preferences, hobbies, and needs. Here's a quick breakdown of what you can do in this county rich in natural diversity and beauty:
Take tours to discover nature and its rich wildlife. The environment of the Alps, with its many lakes, valleys, green steppes, and pastures, will offer you the most beautiful tours ever.

Riding trains, touring them long distances, and enjoying nature's most beautiful panoramic views.

Visiting the historical monuments that abound in this province contains many ancient cities, historic buildings, edifices, and places of worship built long ago.

Visit each city in the province. Every city has its character, footprint, aesthetics, customs, cuisine, and markets. And you will find in this province a beautiful diversity as you move from place to place. In addition to natural beauty, each city offers a different view of the Alps, and each has its forms of lakes, steppes, and valleys.

Skiing in winter and other winter games, as this province has hosted the Winter Olympics more than once.

You can take air tours through tourist helicopters and paraglides and enjoy watching the Alps from varying heights.

Swimming in many lakes and swimming in outdoor swimming pools are available in some hotels.

Rafting and rowing.

Water tours in some lakes.

Shopping, visiting cafes and restaurants, buying luxury Swiss chocolates, and shopping from stores that sell elaborate Swiss tools.
To enjoy all these activities and more, book your trip now through:
How About a Visit to Heidi's Hometown?
On the slopes of the Meinfeld High lies the village of Heidi, a beloved cartoon character whose episodes everyone who watched wished to live for a while the way it used to live alongside the Alps and amidst beautiful green nature.
The beautiful and quiet village of Maienfeld inspired a poet to write Heidi, an orphan and playful girl who never tires of playing with animals and wandering in nature.
The city there will provide you with something of your dream: you can ride horses through the green meadows and visit the goat pastures to feed them yourself, just as Heidi did. You'll also find yourself in the middle of Heidi's village and then its hut, taking pictures, not believing that your childhood has been resurrected because of this place.
What Activities Can You Do in Heidi's Home of Maienfeld?
Visit Heidi's home and immerse yourself in the most minor details of the nature of living in it. This visit is suitable for families and children, who the sights will move they will see an old-fashioned house on a cliff embraced by the beautiful Alps.

Take the road leading to Heidi's house, where you will cross it on foot, enjoy the picturesque nature scenes, and breathe in the air of the various pine trees.

Visiting the city's restaurants and enjoying various types of meals, and visiting the markets to buy souvenirs and various Swiss industry products.

Riding a bicycle.

Riding small helicopters to enjoy the most beautiful scenes of nature from the sky, especially the foothills of the White Alps.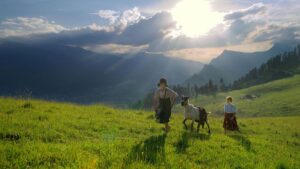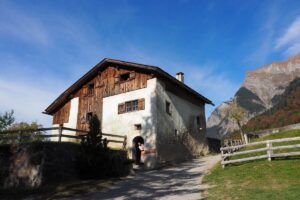 Great shopping in Grübinden
The shopping experience in Grübinden is unique and exciting. In Switzerland, you are in the capital of beauty. You will be attracted by a lot of haute couture, perfumes, cosmetics, jewelry, luxury watches, and Swiss gadgets made by skilled hands.
Here are three important shopping destinations that you should not miss during your visit to Grübinden:
Samnaun Resort: It is a tax-free resort. Imagine how convenient shopping will be for you and your financial portfolio in this beautiful place. It contains various local and international brands. And you'll find everything you can think of fashion to food.

And you will not only shop here, it is a beautiful place located on the edge of the magnificent Alps, and you can practice picnics and other activities and frequent the cafes and restaurants in it.

Davos Klosters: In this place, you will find a wide variety of clothing and fashion shops, watches, jewelry, gifts, and souvenirs. It is also full of cafes, restaurants, and accommodations, and you can practice a lot of entertainment in addition to shopping from its famous stores.

Outlet Landquart Shopping Center: It is about an hour from Zurich. It has more than 80 stores for fashion, accessories, outdoor, and sports equipment. You can pamper yourself in this place by visiting fine dining. You can also snack if you want to focus on just shopping and wander through its awesome stores.
Book your trip to Grübinden to have the most beautiful shopping experience through Matar website, which contains the best travel and tourism deals.
Food & Dining in Graubünden
Are you a gourmet eater? You signed for what you wanted in Graubünden. The restaurants there will take you to different types and tastes in a way that emulates the beautiful and diverse nature of the province. In Graubünden, you won't find a single kitchen and won't be charged for a single color of meal. The tourist tradition of Graubünden restaurants has made them delve into the art of cooking to satisfy the tastes of tourists from all over the world.
Swiss Cheese Fondue: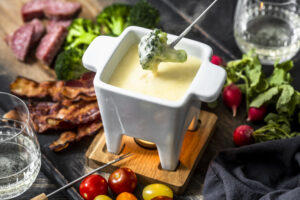 You'll go on numerous tours as you move from area to region in Graubünden. If you want something to satisfy your hunger and provide energy and a delicious taste, the melted cheese mix served with bread cubes dipped in it will be a unique experience. This meal is served in more than one way and more than one mixture, so try these recipes to decide what suits you.
Capuns Meal
It is a traditional Swiss meal originating from the canton of Graubünden. It is a popular food consisting of dried meat and spätzle dough wrapped in chard leaves. The mixture is cooked in butter and then in broth and cream.
Swiss Barley Soup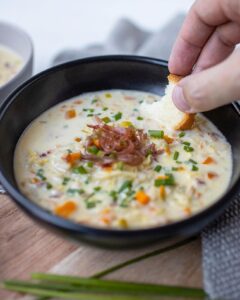 The roots of this soup go back to the Alps of Graubünden County. It is a mixture of pearl barley, broth, carrots, potatoes, celery, white cabbage, leeks, dried or smoked meats, and cream. This dish is prepared specially and takes time to bring out its delicious flavors.
Bündner Nusstorte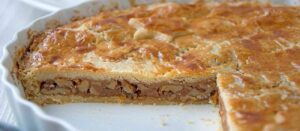 They are ideal with a cup of coffee or tea. It is a traditional tart in Graubünden, made up of a special dough stuffed with nuts and caramel, and walnuts are usually used for filling.
Chur City Meat Cake (Churer Fleischtorte)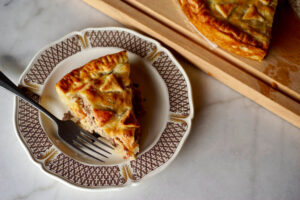 It belongs to the city of Shur, one of the cities of Graubünden. This dish consists of a doughy base and a fleshy filling. The dough is usually made with a mixture of flour, salt, butter, and cold water, while the filling is made with a mixture of bacon, onions, minced meat, leftover bread, and milk.
Maluns Platter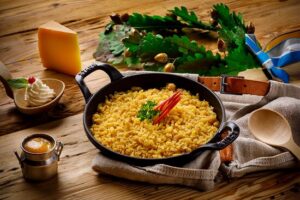 It is a traditional dish sourced from Graubünden as well. It is made from potatoes, flour, butter, and spices, specially and unconventionally. It is served with cranberry sauce, alpine cheese, apple sauce, and a warm cup of Café Latte.
The Most Beautiful Hotels in Graubünden
Graubünden is an ancient tourist city, and its residents are experienced in hosting and pampering tourists. Most of its hotels are awesome, and here is a collection of the best in the province:
1- Art Boutique Hotel Monopol
Location: Art Boutique Hotel Monopol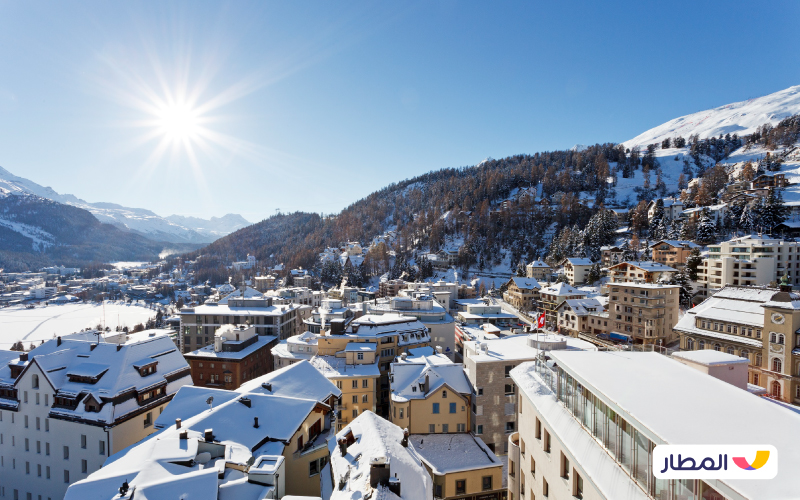 The Art Boutique Hotel Monopole is located in the center of St. Moritz. It features a spa on the top floor and offers panoramic views. At its spa, you'll find fitness rooms and a sauna. You will find water jets for massage as well as a hot tub. Various massages and beauty treatments are also available.
All rooms at this hotel feature a flat-screen TV, a minibar, and a bathroom with free Wi-Fi. A wide selection of delicious Italian cuisine is served.
Book a room at this beautiful hotel with almatar by clicking the button below.
2- Laudinella Hotel
Location: Hotel Laudinella St. Moritz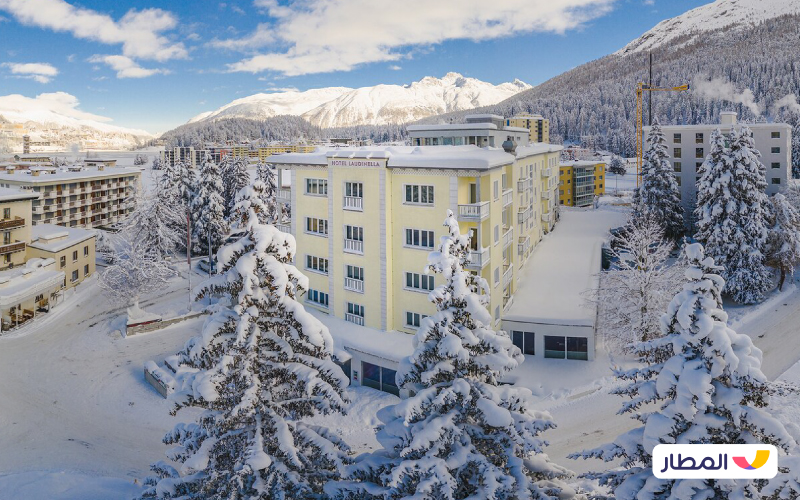 Hotel Laudinella, with its quiet location in St. Moritz Bad, has this for you if you want recreation and tranquility. It has a luxurious location with wonderful views of the lake and the surrounding mountains and five restaurants and modern wellness facilities.
You can go on foot to ride the cable car, as the Signal Cable Car is just a few minutes from the hotel. If you want to shop and wander around the city center, this is a terrible hotel option, as you can reach the center of St. Moritz in 5 minutes from the nearby public bus station.
At the hotel's restaurants, you'll have a variety of meals to choose from whenever you want. His cuisine ranges from Indian to Asian, including pizza, Swiss Fondue, Raclette, and more.
Rooms at the hotel offer views of the surrounding mountains, and almost half have a balcony.
Book a room at this beautiful hotel with almatar by clicking the button below.
3- Cresta Palace Celerina Hotel
Location: Cresta Palace Hotel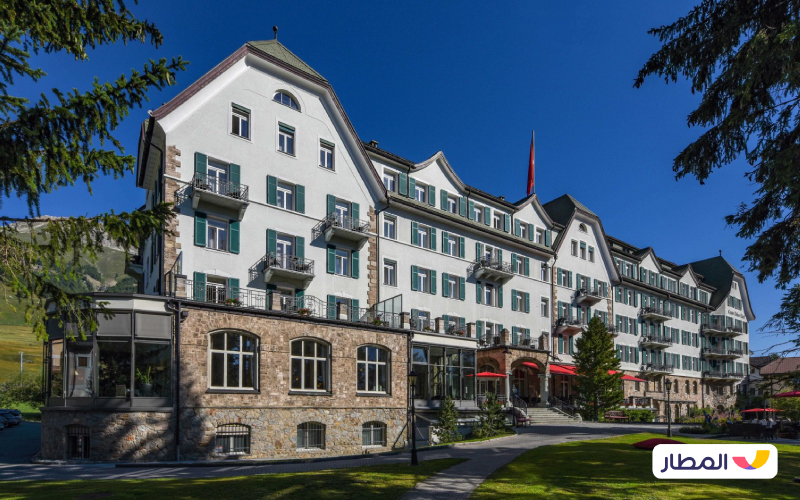 You will smell the fragrance of tradition in a hotel built in 1906 that blends the charm of history with modern resorts, fine cuisine, and equipped rooms. One of the advantages of its location is its proximity to the train station and the cable car station.
The hotel resort includes an indoor pool with a sauna, steam bath, and hot tub. It includes a massage service.
Travel to Graubünden and enjoy the most beautiful tourist trip. Book a flight using this link, and you can also book this beautiful hotel using the button below.
4- Kulm Hotel
Location: Kulm Hotel St. Moritz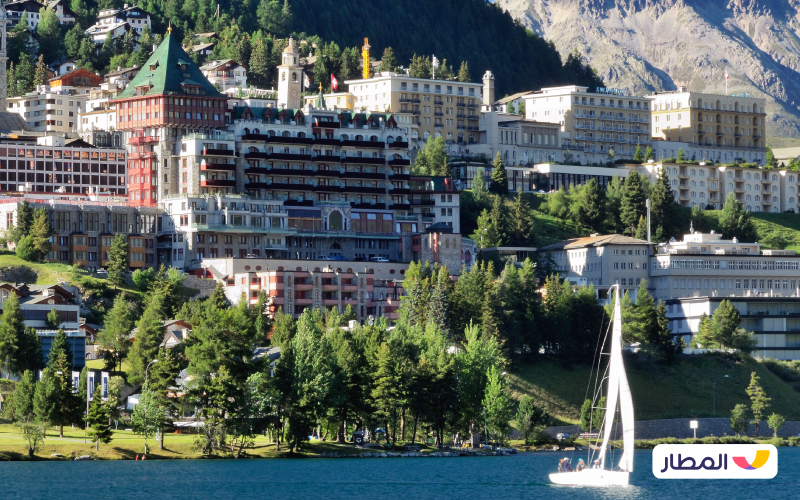 If you want the best service and enjoy the mountain views from the windows and balcony of your hotel room, the Colm Hotel has it for you and more.
This hotel is one of the luxury hotels distinguished by its style and originality. Each room has majestic mountain views, and the south-facing rooms overlook Lake St. Moritz.
The hotel has five restaurants with various culinary offerings ranging from local cuisine to delicious international meals.
The hotel features a resort, a plush pool, and a Jacuzzi. Children can enjoy their private pool as well. The hotel also features a steam bath, sauna, fitness room, golf course, three tennis courts, and more.
Book your stay at Kulm Hotel using the button below.
5- Hotel Seehof
Location: Precise Tale Seehof Davos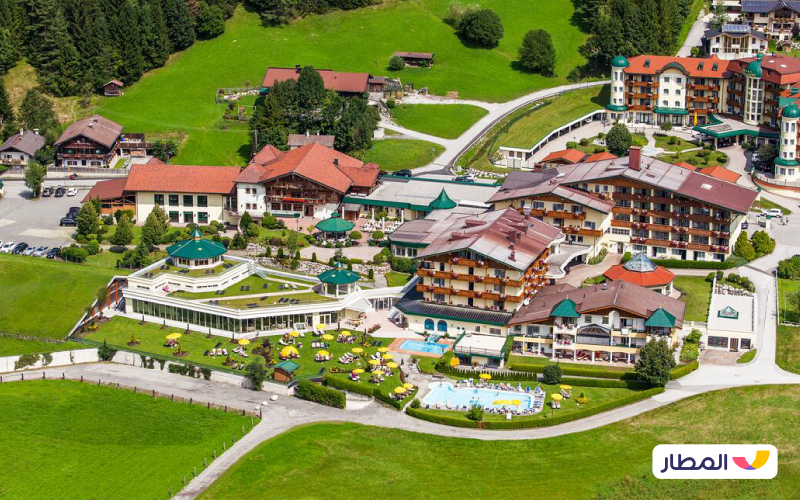 Hotel Seehof is one of the most elegant and beautiful hotels. It is in Zurich's Seefeld district, close to the beautiful Lake Zurich. In addition to the services provided by any hotel, it has a luxurious restaurant, making it a destination for those who want to enjoy delicious and international meals.
If you like to wander around Zurich's Old Town, it's just a few steps away from the hotel, where you can shop, take pictures, buy souvenirs, visit cafes, and then return to the hotel for a break.
Travel to Graubünden and enjoy the most beautiful tourist trip. Book your flight using this link.
6- AlpenGold Hotel
Location:  AlpenGold Hotel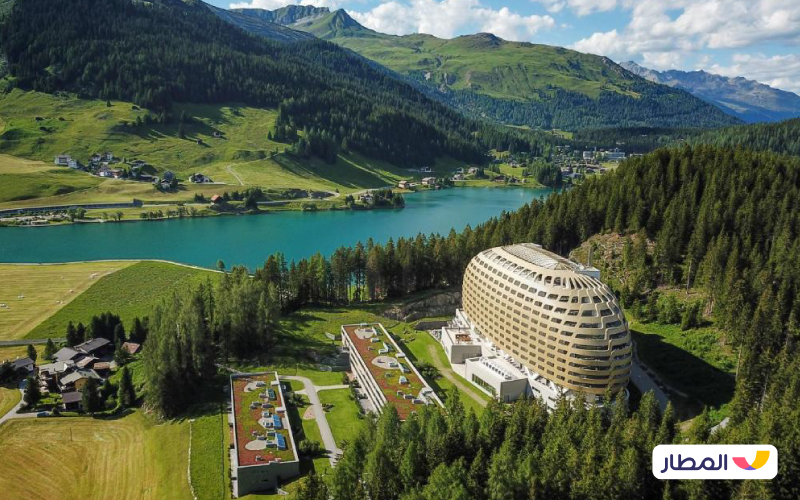 The location of the Alpine Gold Hotel is ideal for lovers of skiing in the winter. It is 3 kilometers from the ski lift. Davos City Train Station can be reached in a minute's drive. The hotel also offers a free in-town shuttle service for those who love.
The hotel has three restaurants and a cocktail lounge, and you can have breakfast, lunch, and dinner every day on request.
The Alpine Gold Hotel features a spa, wellness center, fitness venue, sauna, and steam room. You can book massages whenever you like.
Its rooms and suites have a private bathroom, satellite TV, and a fully stocked minibar. They also feature hardwood floors and a seating area.
Book your flight now with almatar using this link. 
You can also book your stay at this hotel by clicking this link.
7- Hard Rock Hotel
Location: Hard Rock Hotel Davos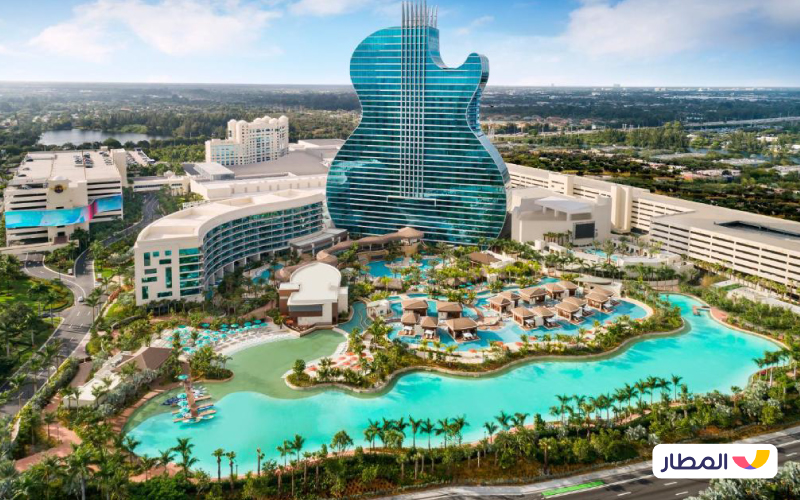 Quietly located, the Hard Rock Hotel is 100 meters from the Schatzalpbahn Cable Car, 400 meters from the Vaillant Arena Ice Hockey Stadium, and a 10-minute walk from Davos Platz Train Station and the Jakobshorn Cable Car. It offers elegant accommodations with free Wi-Fi, a bar, and a restaurant.
All rooms are furnished in a modern Alpine style with lots of wood and stone.
The hotel has a 1,000-square-meter resort with a swimming pool, steam bath, and sauna. A fitness center is also available.
You can enjoy a stay at this magnificent hotel by using the button below.
8- Rocksresort
Location:  rocksresort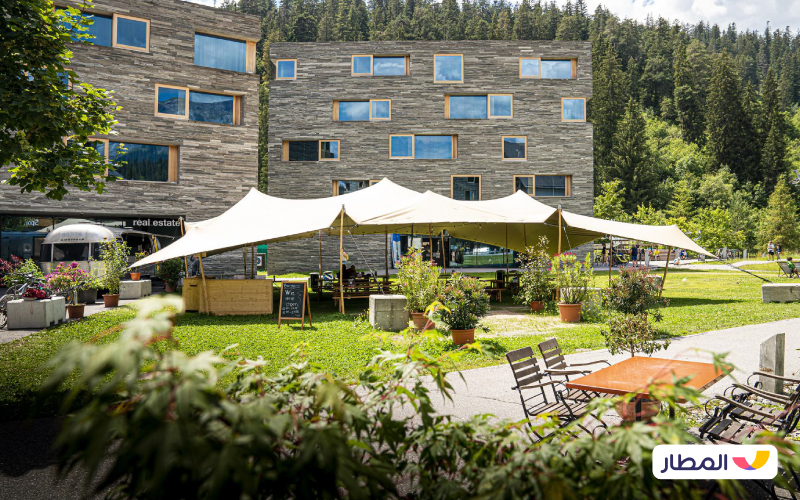 Your stay at the Rocks Hotel will be unforgettable. Whether you're a fan of hiking, cycling, winter or summer sports, or tranquillity and relaxation, this place will provide you with what you want.
The hotel's apartments are luxuriously furnished with high-quality décor for distinctive tastes. Many shops, bars, and restaurants are located right at the resort.
9- Waldhaus Flims Wellness Resort & Resort
Location:  Waldhaus Flims Wellness Resort, Autograph Collection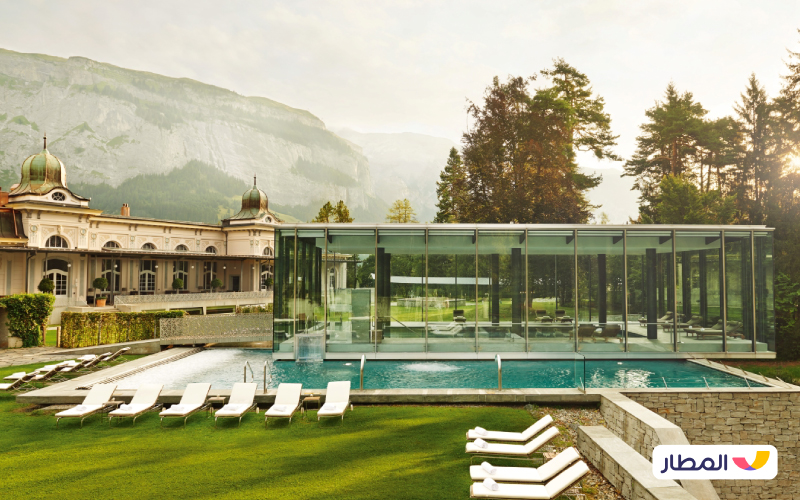 Located in Flims Laax, this luxury hotel was built in 1877 and completely renovated in the fall of 2016.
This hotel combines historic elegance with luxurious modernity. In Switzerland's largest hotel park, the hotel complex offers a wellness oasis, six restaurants, an intensive activity program, and supervised childcare.
Its rooms are equipped with the latest technology, and some offer a south- or north-facing balcony with panoramic mountain views.
Guests of the hotel can enjoy its 3,000-m2 resort with an indoor and outdoor pool, a natural swimming pool, a steam bath, several sauna rooms, treatment rooms, and a modern 24-hour fitness center.
10- Grand Resort Bad Ragaz
Location: Grand Resort Bad Ragaz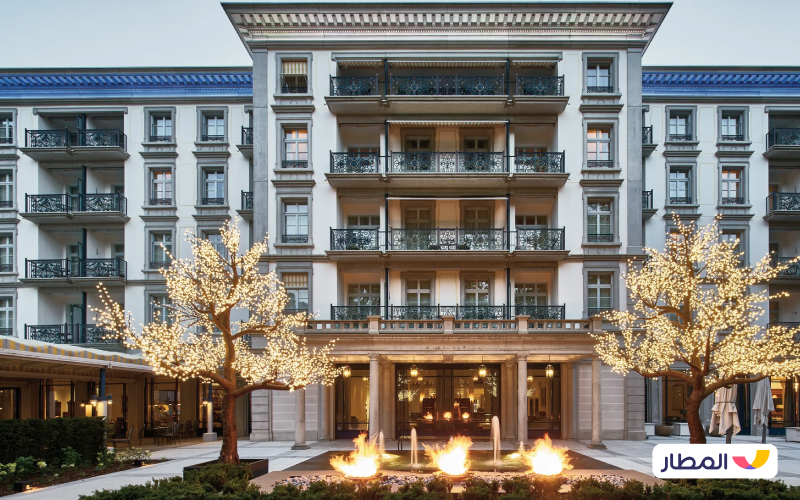 The hotel is just an hour's drive from Zurich, amid the foothills of the Alps in eastern Switzerland. Picturesque mountain landscapes, hiking trails, and amazing ski resorts surround it. The luxurious 5-star resort offers its thermal spring and a medical wellness center.
There are seven restaurants serving sushi meals and other wonderful delicacies. The resort features two golf courses and a meeting and event center.
Top Restaurants in Graubünden
1- Gourmet Restaurant Guarda Val in Lenzerheide:
You will find modern European cuisine at this restaurant focusing on seasonal local ingredients. The tasting menu is a popular option.
Location: Gourmet Restaurant Guarda Val

2- Alp Natons Restaurant in Chelin:
 If you want to feast on delicious food, this restaurant is beautifully located in the Swiss Alps. It serves traditional Swiss cuisine, including fondue and raclette.
Location: Alp Natons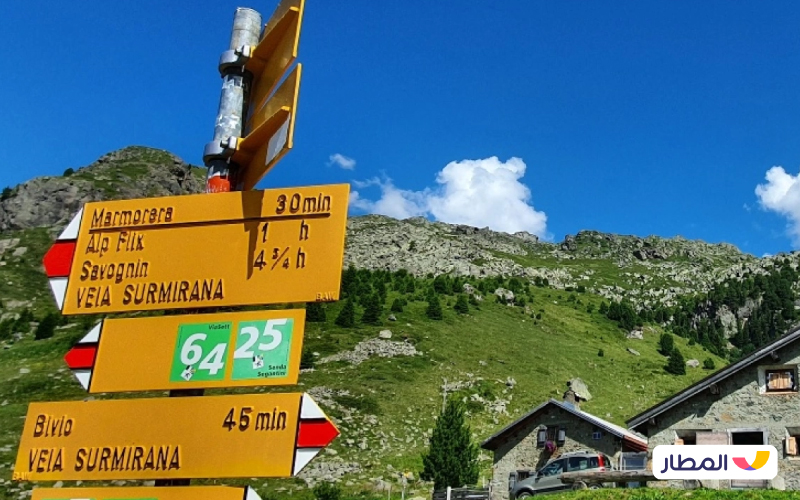 3- Walserhof Restaurant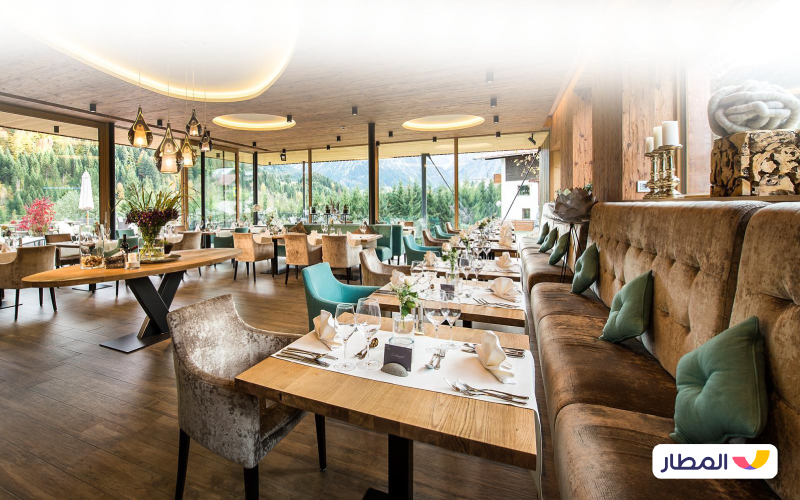 Located in Klosters, this restaurant is renowned for its fine dining experience and classic European cuisine with an Alpine touch. The menu includes dishes such as roasted venison and caramelized apple pie.
Location: Hotel Walserhof Klosters AG
4- Gasthaus Alpenrose Restaurant:
Located in the village of Malex, this cozy family-run restaurant features hearty Swiss cuisine and warm hospitality. The menu features dishes such as classic barley soup and trout.
Location: Gasthaus Alpenrose
5-Trais Portas Restaurant in St. Moritz:
 This restaurant serves traditional Swiss cuisine with a modern twist. The menu features venison tartare, seafood, and chocolate soufflé dishes.
Location: Trais Portas
Book your flight to Graubünden now: Al Matar website