The leisure space in Abu Dhabi, the capital of the United Arab Emirates, is vast and is constantly growing due to the emirate's drive to enhance its tourism facilities and infrastructure. When you head to any theme park or tourist island on the coast of the Arabian Gulf in Abu Dhabi, you will find a wide choice of entertainment tools suitable for adults and children.
One of the most important entertainment facilities distributed in more than one theme park in Abu Dhabi is related to water activities. It's exciting, incredible, and breathtaking, and it's one of the most frequented sports in the summer.
So let's get to know the most prominent of these water activities, and we will mention their titles before we talk to you about each of them:
Wakesurfing
kitesurfing
Flipboard
Zorb Water Ball
Banana Boat
Yas Waterworld Games
1- Wakesurfing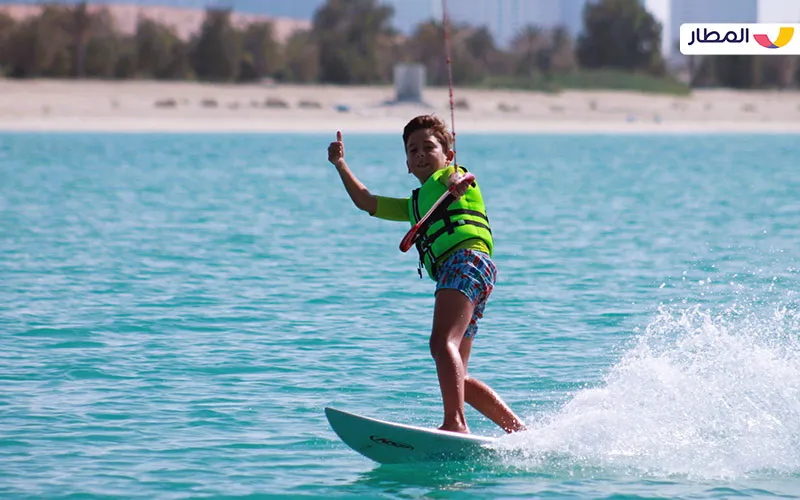 You must have seen one day on television a very skilled skier standing on a small waterboard and swaying with his body, trying to balance as he climbed a wave as big as a mountain near a seashore. The scene is fascinating, and the challenge is great, so how can this little creature fight against a roaring water wave that mercilessly hits everything it gets in the way? Our heartbeat accelerates as we pursue the movements of this skilled athlete until the wave breaks and he successfully exits it.
What can you experience with the help of artificial waves provided by Yas Waterworld programs in Abu Dhabi? It offers training sessions in this area. In the skateboard ride, you can scale from lying on the chest to reaching the stand, in addition to grading the size of the wave and the area of water in which the training is being conducted.
You will train and practice this fantastic sport in the largest artificial lake in the world. And you will experience strong waves 3 meters high.
In this lake at Yas Waterworld, you are on a date with fun, excitement, challenge, and the most beautiful time you can have on your summer vacation. Be prepared, fly to Abu Dhabi, and book Yas District hotels for this unique and beautiful experience.
2- Kitesurfing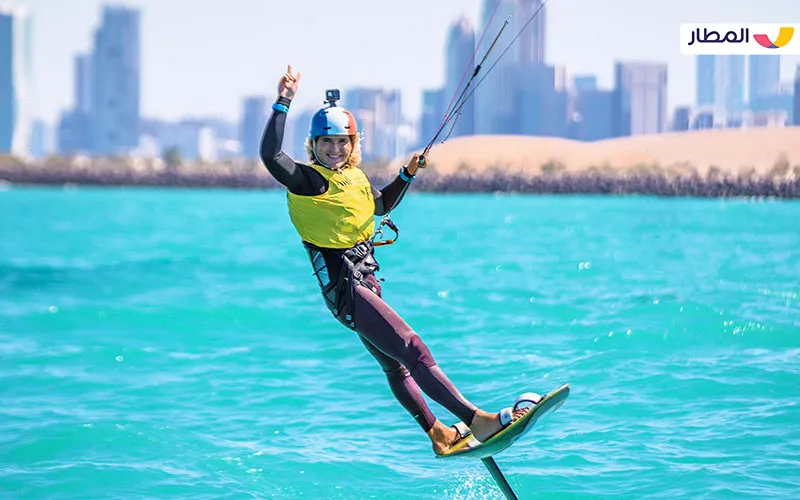 Kite surfing is an active sport in Abu Dhabi. Abu Dhabi holds competitions in this field of sports. In 2019, it hosted the World Kitesurfing Championships, where competitors from 31 countries participated for five days.
Kitesurfing is done by pulling a skier's boat or by connecting mechanical cables to towers. It should be noted that Abu Dhabi has more than one center to practice this exciting sport. But you should pay attention to the fact that trainers and experienced people must supervise it because many details must be considered before undertaking it.
The modern Al Forsan International Sports Resort and Jalboot Water Sports Center are places where water sports lovers practice water skiing of all kinds.
3- Flyboard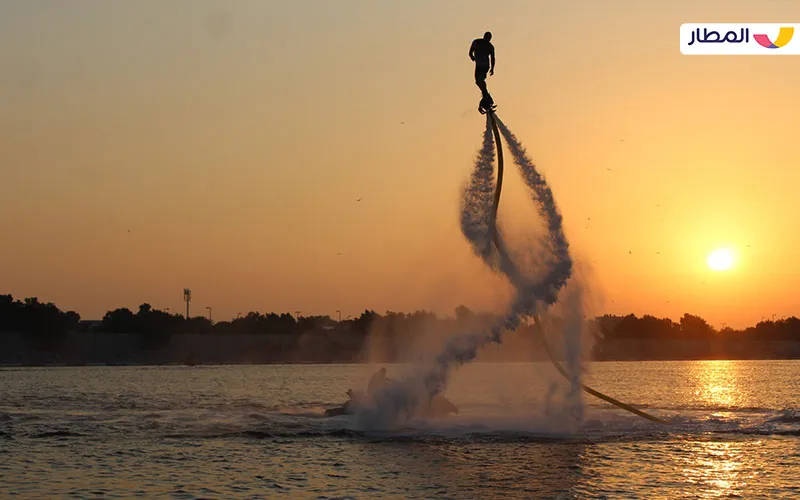 You will enjoy the sport of flyboarding, which is full of excitement. You'll see yourself flying by water propulsion over the water, making circular and acrobatic movements that will ignite your enthusiasm.
You need to receive workouts before you ride on her latch. You'll wear a life jacket, and a professional trainer will accompany you before you embark on the most enjoyable things you can do.
The usage times range from 30 minutes to an hour; each time has its price. Head to Yas Island in Abu Dhabi, where the most beautiful water activities ever are, to experience a Flyboard ride and live a unique experience.
4- Zorb Ball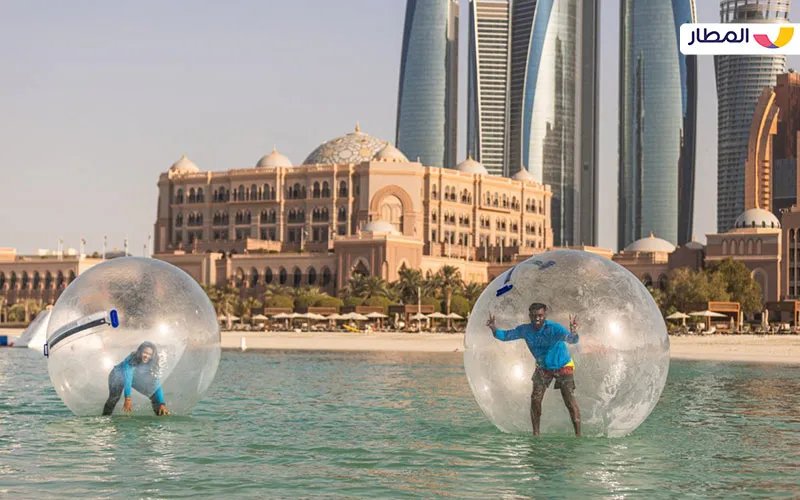 Have you ever walked on water? With the Zorb Water Ball, you can experience this feeling. A zorb ball is an inflatable plastic ball inside which the trainer blows into the air, and you start walking through it after pushing into the water. You will walk, and it will circle you above the water's surface. This may be the closest thing a hamster does when placed on a wheel and starts running nonstop. The important thing is that you will enjoy walking above the water's surface, and the blood will activate in your arteries. You can find the activity of playing with the water ball of Zorb in many water parks in Abu Dhabi.
5- Banana Boats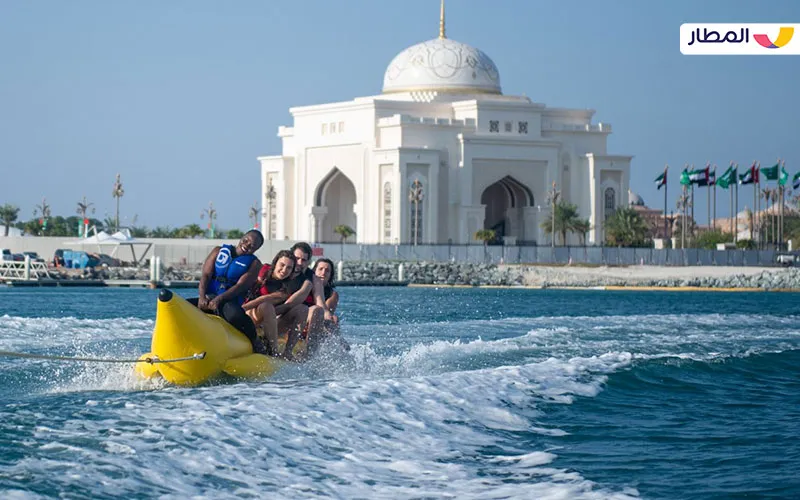 The best thing about riding a banana boat is that it is family-friendly and safe, and you can enjoy it. You don't need to be a skilled swimmer; all you need to do is ride this banana-like boat in shape and color and go fast through the sea.
Banana Bot is very interesting if the riders are a group of friends, as they will have the most beautiful and unforgettable times in front of the magnificent beaches of Abu Dhabi.
6- Yas Waterworld Games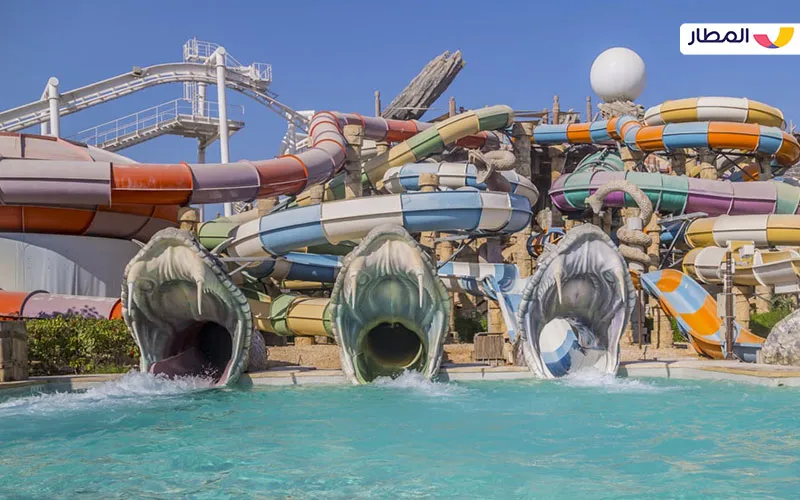 At Yas Waterworld, you will find a wide range of water games, with up to 45 rides ranging from water slides to many activities, events, and shows that delight children.
This park includes the longest waterways in the world. You'll find the longest water roller coaster with dazzling sound and light effects. In short, Yas Waterworld is the best waterpark in the UAE and the region, and some of its facilities reflect the heritage and culture of the UAE.