Manchester United in Britain is classified as an inland city; it does not overlook any seacoast within its administrative borders. If Manchester had sea views, the elements of its tourist beauty would have been completed, especially since it is considered one of the most beautiful British cities with its sights, excellent infrastructure, and facilities for art, culture, and sports.
The hotels that can be located close to the road leading to the sea will be those located close to Liverpool or Blackpool. These two cities are separate and independent from Manchester and have their hotels and systems. But in any case, for those who want to live in Manchester to enjoy the vitality of this ancient city and, on the other hand, want to go to the sea on some days, they can take the tracks prepared by train or other means so that they take them either to Liverpool, which is the nearest or to Blackpool.
Liverpool is located approximately 56 kilometers from Manchester, so you can find some hotels in Manchester that are suitable for getting from there to Liverpool. Some neighborhoods in Manchester are close to major transport hubs such as Manchester Piccadilly or Manchester Victoria stations.
Blackpool is further away, as it is located 66 kilometers from Manchester. Both a car and a train can take you to Blackpool. Some hotels in Manchester can be a starting point for the beautiful coast of Blackpool.
From here, in this article, we will enumerate some of the hotels where a tourist can stay so that he can achieve this end.
This hotel in Manchester is located next to the John Rylands Library and is a 5-star luxury hotel. The hotel offers a range of amenities, such as a sauna, an indoor pool, and a spa center. The King's House convention center is a 16-minute walk away.
In addition, the Old Trafford stadium is less than 3.5 km away, and you can easily reach Manchester City Center, which is only about 1 km from the hotel. The hotel is ideally located a 20-minute from Piccadilly train station and the same drive from Manchester Airport. And from this train station, you can set off for Liverpool to visit its picturesque beaches.
The rooms at the hotel are equipped with amenities such as a laptop-size safe, a mini-refrigerator with a bar, and coffee and tea-making facilities.
Guests can enjoy a delicious breakfast daily at the restaurant, and the Peter Street Kitchen restaurant serves carefully prepared contemporary meals.
---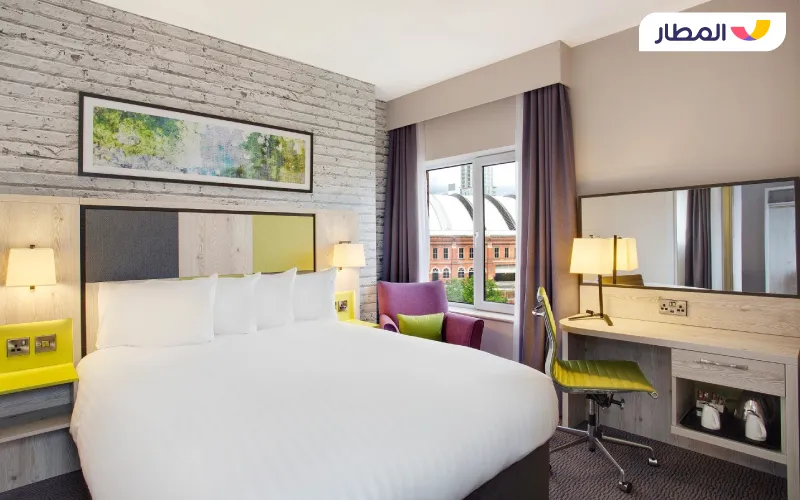 The Jurys Inn Manchester City Center is the perfect choice for travelers seeking a unique experience.
This hotel allows you to discover the most important attractions of the charming city of Manchester, such as the Bridgewater Hall and the Manchester Central Library.
You can visit some great restaurants near the hotel, such as Tattu, Rosso Restaurant and Bar, and others for delicious dishes and meals.
The hotel has basic amenities that provide comfort and meet guests' needs, as its rooms have a flat-screen TV, air conditioning, and free Wi-Fi.
The Joris Inn Manchester City Centre Hotel is ideal for those who want to connect to the transport stops from Manchester to Liverpool to spend a pleasant time by the sea.
---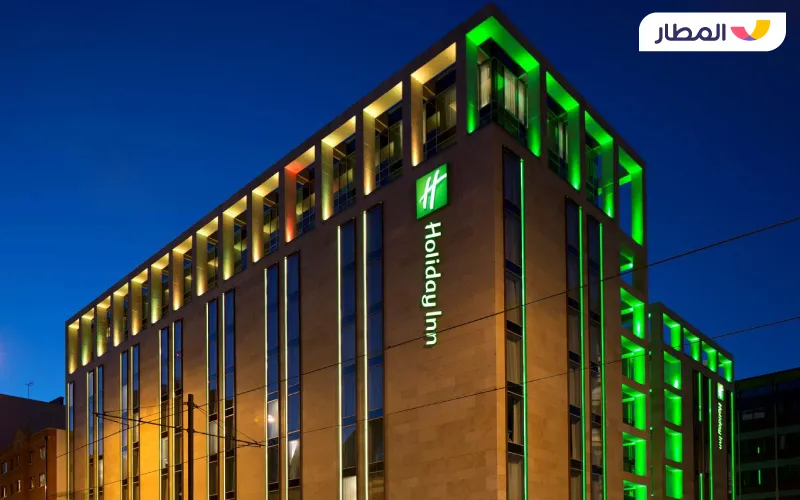 This hotel is centrally located in Manchester and offers easy access to Blackpool by train or car. It is situated opposite Piccadilly train station. It is also possible to get around by car, as there is public parking near the hotel.
It features a sun terrace with a great view and a fitness center to keep fit. Free Wi-Fi is available to guests throughout the hotel, including in the beautiful on-site restaurant.
All air-conditioned rooms offer free high-speed internet and a flat-screen TV with satellite channels for relaxing times. And don't worry about amenities, as the rooms also have an en-suite bathroom equipped with complimentary toiletries and a hairdryer.
The family restaurant provides delicious meals. Guests can relax on the canal's magnificent terrace and enjoy their drinks and views. And if you want to exercise, the gym offers a large selection of machines and weights for free.
The hotel's central location near King Street and St. Anne's Square makes it an ideal base for exploring Manchester. Manchester Airport is only 14.9 kilometers away, making getting to the hotel easy.
---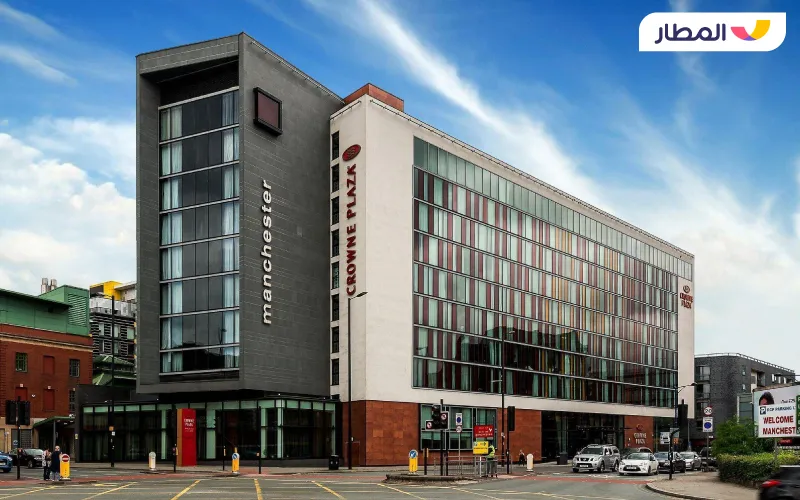 It is one of the options close to transport links in Manchester, which allows making daily trips to Blackpool to visit its beautiful beaches.
Crowne Plaza Manchester City Centre is a unique destination that combines comfort and style. The hotel has 228 individually designed rooms with modern amenities, a great restaurant, a chic bar known as Glasshouse, a fitness suite, and even a Starbucks branch.
The Crowne Plaza Manchester City Centre Hotel offers a variety of rooms, including queen and double rooms with premium beds and unique features such as free Wi-Fi, a comfortable work area, and a flat-screen TV with Sky Sports channels. The rooms also have minibar, tea and coffee-making facilities, safe, complimentary mineral water, and air conditioning. The modern bathrooms have a separate shower, bathtub, and complimentary toiletries.
The Crown Plaza Manchester Hotel is close to various independent restaurants, cafes, and bars in the Northern Quarter. It is less than a 5-minute walk from Manchester City Center's main attractions, including the Manchester Arena and the National Football Museum.